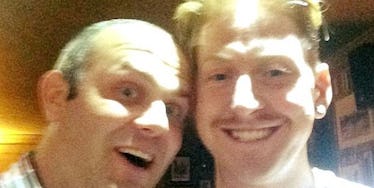 Soldier Digs Grave, Plots Murder Of Ex-BFF Who Bragged About Sex With His Wife
Social media
A soldier dug a grave for his former best friend and allegedly tried to murder him after the man started an affair with his wife.
John Watson, 43 is accused of kidnapping and trying to kill fellow soldier and ex-BFF James Dicks, 29, who served alongside Watson in Prince William and Prince Harry's old unit.
Reading Crown Court in England heard Watson created a "murder checklist" in response to Dicks bragging about his relationship with Lynsey Foston, Watson's estranged wife.
The father-of-two requested a grave to be dug, claiming it was for a dead dog — but the court heard that he intended to bury Dicks there.
Watson, who denies a single charge of attempted murder, told the court he had the grave ready and had planned to kill Dicks, but could not go through with it — despite kidnapping his victim and wrapping him in plastic wrap.
The two soldiers had a "bromance," Watson said, until Dicks began sleeping with Foston in October 2015.
Watson Dicks' wife Jacqui revealed the affair to him, playing him a recording of Dicks boasting about the relationship.
He said,
I found out that my best friend was with my wife. His wife found out first. She found out from his brother because he was bragging to his brother about it. When Jacqui told me I didn't believe her. I heard the recording and he admitted to it. He said yeah and giving attitude. He admitted to his wife that he was seeing my wife.
In 2015, Watson and Foston took a trip to Alicante, Spain, but Watson told the court his wife spent the vacation sending messages on her phone.
Despite quitting his Army job to spend more time with his wife and daughters, he could not save the marriage, and they broke up on Christmas Eve 2015.
Watson added,
James Dicks told Lynsey that I was cheating on her. I wanted to hurt him because he hurt me. The way it ended up, I wanted to kill him.
However, he claimed he did not intend to carry out the murder.
The trial continues.
Citations: Love triangle soldier 'kidnapped his ex-best friend at knifepoint, dug a grave and tried to murder him after the pal bragged about bedding his wife' (MailOnline)