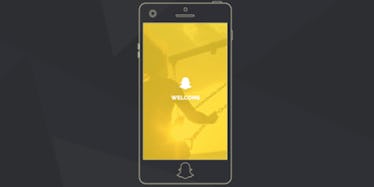 Snapchat May Release A Phone And The Pics Will Make You Forget Apple's Next Gen
Snapchat is slowly taking over the world.
For many of us, it's our first thought when we see something cool we want to share with our friends.
So rumors that Snapchat's next venture will be their own phone — with a concept design so stylish it will make you forget about the upcoming iPhone — are very interesting indeed.
Mediakix has imagined how a Snapchat phone would look, and there's no doubt it would boost your photography game.
Their design includes the world's first 360-degree camera, opening up a world of possibilities beyond cool filters and Bitmoji.
It also features a one-touch capture button, making it easy to take photos and video, even when the phone is locked.
But before you get too excited, this is, disappointingly, merely speculation at this stage.
However, there is reason to believe Snapchat— which, like Apple, is notorious for keeping secrets about its products — is working on a new project.
According to Mediakix, the company's recent investments indicate a shift of focus away from the app and toward hardware.
Gossip suggests it could be a reimagining of the Spectacles feature launched last year, or it could be a new product altogether — like a Snapchat phone.
That fits in with Snapchat's recent rebranding as a "camera company," showing it has more to offer than just an app.
Could it reinvent the camera by building an improved version into a new phone?
It's probably not as crazy or unlikely as you might think.
And it wouldn't be the first time a household name in social media has made a surprise move into the phone market.
Back in 2013, Facebook partnered with HTC to create the HTC First, which was built around Facebook software — although it wasn't a huge success, which is why you probably haven't heard of it.
Citations: Is Snapchat Building A New Phone? (Mediakix)