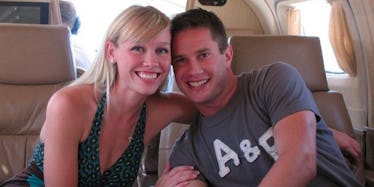 Sherri Papini's Mom Posts Heartbreaking First FB Pic Of Her After Abduction
Facebook
Sherri Papini is back on social media ... sort of.
In a recent Facebook photo posted by her mother, Loretta Graeff, Papini is seen playing with her kids and their grandma in a room filled with Christmas decorations.
The photo was posted on Monday, November 28, less than a week after the 34-year-old woman was pushed out of a car on the side of a California road, following her three-week abduction. DailyMail.com reports that this photo could possibly be a throwback from a previous holiday.
Papini was found on Thanksgiving this year — having been bruised and branded — after signaling a driver to stop and help her. The driver called 911, and Papini was then transported to the hospital before reuniting with her family.
The Facebook photo, which Papini's mom posted without a caption, looks as if it was uploaded as a celebratory reaction to her daughter's discovery.
Richard Papini, the victim's father, appeared to react in a similar way, posting this photo of himself and his two daughters after Sherri (right) was discovered.
Sherri's husband, on the other hand, did something a little more public. Keith Papini spoke to ABC News in an exclusive interview, during which he shared some of the harshest details about his wife's abduction.
Keith told ABC's "20/20,"
If she would have lost her phone driving home one day and she had put it on the roof of her car one day and drove off, you know OK, I could see that happening. But her car was at home and the kids were at school. I knew something was wrong.
Papini went missing on November 2, after she had gone for a morning jog near her home in Redding, California. Her story continues to make headlines for the curious set of events related to her rescue.
For example, the sheriff presiding over Papini's conceded that a key piece of evidence had the appearance of something that could have been planted.
There's even a story about how Papini's high school friend vanished over a decade ago while running on the same path and has not been found.
Today, a story emerged about a racist post written under Papini's maiden name that could've sparked motivation for her abductors.
It looks as if police are still hard at work looking for whomever committed the crime. Sheriff Tom Bosenko said,
We have remained devoted to this case and will not rest until Sherri's captor is identified and brought to justice.
Godspeed.
Citations: DailyMail.com, ABC News