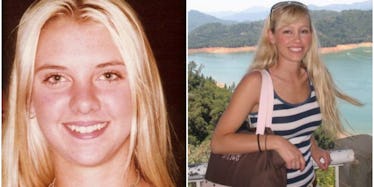 Sherri Papini's Friend Went Missing On The Same Jogging Trail 18 Years Ago
Facebook
It has emerged Sherri Papini — who was kidnapped while out for a jog in Redding, California, last month — had a high school friend who vanished from the same running trail 18 years ago.
Tera Smith went missing from her home in Redding on August 22, 1998 when she was 16 years old. She has never been found.
Tera has been listed on missing persons website The Charley Project ever since, but circumstances surrounding her disappearance still remain a mystery.
Days after Sherri vanished from her home on November 2, her husband Keith Papini visited Tera's parents for emotional support, DailyMail.com revealed.
Tera's father Terry told the news website,
Keith came over for a while on the second or third day after Sherri went missing. He also called later to ask whether I thought the FBI should get involved. We didn't know him at all until this happened, but we knew Sherri through her friendship with our daughters. Keith came to ask our advice and tap in to our experience, find out what we'd do differently, if we were happy with the way law enforcement had handled our case.
Tera and Sherri went to Central Valley High School together.
Sherri was released by her kidnappers on Thanksgiving Day. Her abductors are believed to have left her on a roadside in Yolo County, a couple of hours away from where she lives.
The 34-year-old was found badly beaten and had been chained and branded with a message.
Her kidnappers are reported to have spoken in Spanish throughout her capture.
At a recent press conference, Shasta County sheriff Tom Bosenko said,
There is a lot still unknown about her assailants. Sherri did her best in providing the descriptions, but was not able to provide a detailed description because of the assailants covering their faces.
No arrests have been made in connection with the case as of yet, though Sherri's husband is still being considered a suspect after taking a lie detector test.
Citations: DailyMail.com