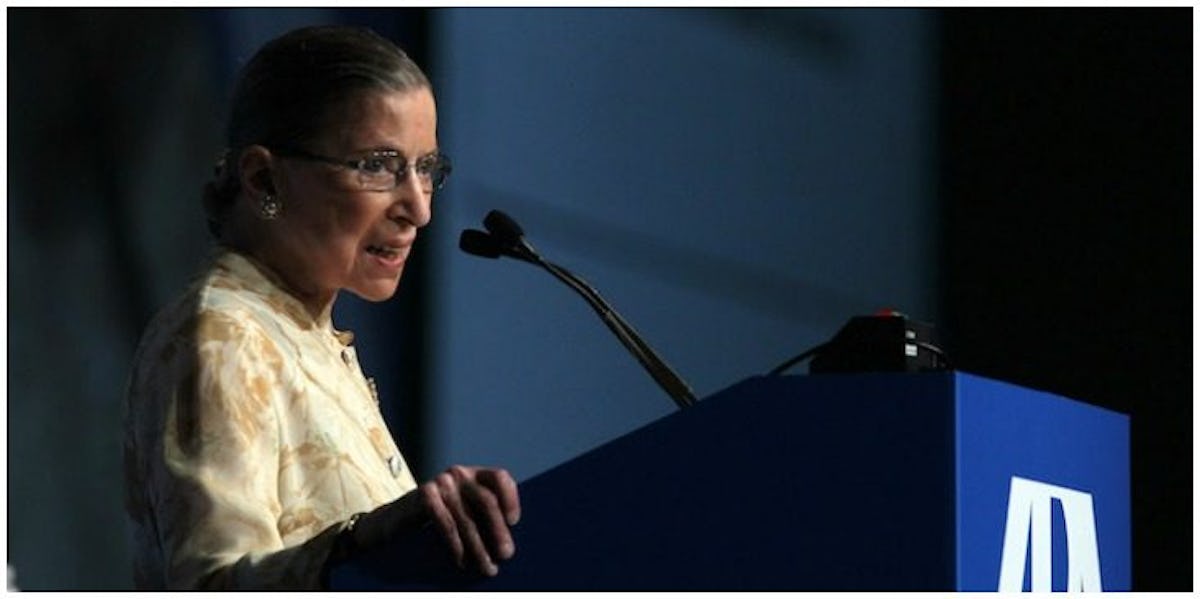 The Ruth Bader Ginsburg Movie Biopic Just Cast Its Star, And We Can't Wait
Justin Sullivan/Getty Images
It's not often members of the Supreme Court become pop culture icons. But then again, there's only one Ruth Bader Ginsburg.
She's an outspoken feminist, a long-time advocate for vulnerable populations, and, at 84-years-old, able to whoop the butts of anyone a fraction her age.
She is a gift from the gods, and now we know who will play her in what is sure to be an Oscar-winning biopic.
After a few false starts, your fave's biopic, titled On the Basis of Sex, finally has a lead actor: Felicity Jones.
To most people, Jones, whose casting was reported on July 18 by Deadline Hollywood, is best-known for her role as Jyn Erso in Rogue One. But to me, she will always be Kim from Chalet Girl. (Don't judge. Ed Westwick is ~100 emoji~ and I unabashedly love bad romcoms.)
The badass octogenarian has been the subject of numerous think pieces and round-ups on the country's favorite feminists -- and even a couple of biographies. But now there'll be a movie that will tell the world about the beginning of her journey to her hard-won place on the Supreme Court.
A story that will firmly place her in the annals of American history.
While Notorious RBG is a great biography, the Mimi Leder-directed film -- which was first announced a few years ago -- will most likely help cement her legacy, much like The King's Speech did for younger generations who didn't grow up with King George VI.
We'll learn about who RBG was before she was subject to tongue-in-cheek Notorious B.I.G. comparisons. Based on her time at law school and first major case on gender discrimination, On the Basis of Sex is set to start filming in Montreal this September. Eek!
But On the Basis of Sex is going to tell the story of her beginning and how she became the outspoken RBG we know and love today. We'll see her face the same gender discrimination that she has fought throughout her entire career. It's important to see our faves stumble and make mistakes -- and realize that everybody has to start somewhere.
And, hey, maybe this film will inspire future RBGs.