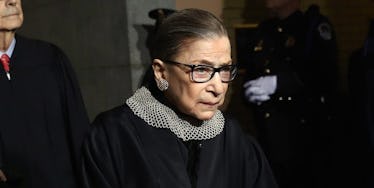 83-Year-Old Ruth Bader Ginsburg's Workout Is Harder Than Yours Will Ever Be
REUTERS
A lot of people are concerned about the health of Supreme Court Justice Ruth Bader Ginsburg.
Politico reporter Ben Schreckinger took that concern one stop further by trying a workout with Ginsburg's trainer, and it was no breeze.
The Supreme Court justice might be 83 years old, but that doesn't mean she's weak in any sense of the word.
Ginsburg was appointed to the Supreme Court by Bill Clinton in 1993. She started working out with Bryant Johnson in 1999 after beating colon cancer.
Concerns about Ginsburg's health came up with the election of Donald Trump.
Trump already had one Supreme Court seat to fill when he was elected, thanks to Republicans spending a year refusing to do their jobs by considering Barack Obama's nomination.
Trump selected Neil Gorsuch, a conservative, for the position. He would replace Justice Antonin Scalia, also a conservative, who died last February.
The Court is currently pretty decently split in half, but some liberal members are aging. Ginsburg is 83, Justice Stephen Breyer is 78 and swing voter Anthony Kennedy is 80.
There's a possibility Trump will have more seats to fill in a four-year term.
Liberals want to see Ginsburg make it through the next four years without retiring or, um, well... you know.
So it was in this context Schreckinger tried out Ginsburg's workout routine.
And it sounds hard as shit, fam!
Ginsburg's workout with Bryant Johnson — a 52-year-old who works in district courthouses and serves as a sergeant first class in the Army Reserves — starts out simply with five minutes on an elliptical.
Then there's some light stretching. Easy enough.
Then Ginsburg's workout gets super intense.
She generally works out for one hour two times a week. She tries to align her workout time with "PBS NewsHour."
After the elliptical and stretching, the octogenarian gets into strength training.
She works on machines for bench presses, leg curls, leg presses, chest flies and lat pull-downs. Ginsburg typically does three sets of 10 to 13 reps.
After that comes seated and standing rows, as well as one-legged squats.
From there Ginsburg gets to push-ups.
The justice progressed from doing push-ups against a wall, to using knees, to full push-ups.
Then, Ginsburg does 30 seconds of planks and 30 seconds of side planks (on each side).
There's arm and shoulder work done on an exercise ball with dumbbells, followed by squats with dumbbell curls also using the ball.
Ginsburg does step-ups with an 18-inch platform, as well as leg exercises for balance.
But Johnson said the most important exercise is where Ginsburg sits on a bench with a medicine ball, stands up and throws the ball to him. If she can't do this exercise, Johnson tells her, she'll need a 24/7 nurse — because that's movement you need to use a toilet.
Johnson's workout advice is something we can all use.
He said,
Do something. If you're not doing anything, then I advise you do something. It doesn't matter what you do. You find out what is your niche and do something. Your body is made to move.
Schreckinger said he was sore after the workout, which probably made Ginsburg happy.
When she found out the reporter would be trying her workout, she told Johnson,
I hope he makes it through.
Keep thriving, Ruth. You're showing us all up.
Citations: I Did Ruth Bader Ginsburg's Workout. It Nearly Broke Me. (Politico)