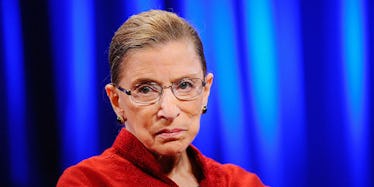 Republicans Want Ruth Bader Ginsburg To Step Down From Travel Ban Case
Kevork Djansezian/Getty Images
Dozens of Republican members of Congress have signed a letter calling for Supreme Court Justice Ruth Bader Ginsburg to recuse herself from the case regarding President Donald Trump's travel ban, Mediaite reports.
The 58 GOP members of the House who signed the letter cited Ginsburg's public criticism of Trump to justify their request.
They allege Ginsburg has "personal bias or prejudice concerning a party" and her "impartiality might reasonably be questioned." With that, they contend she's legally bound to recuse herself (i.e. take herself out of judging the case).
"I can't imagine what this place would be — I can't imagine what the country would be — with Donald Trump as our president," she said last summer, according to the New York Times. "For the country, it could be four years. For the court, it could be — I don't even want to contemplate that."
Ginsburg also suggested she might move to New Zealand if Trump won.
The Supreme Court justice later apologized and said her remarks were "ill-advised."
"Judges should avoid commenting on a candidate for public office," Ginsburg said, "In the future I will be more circumspect."
The travel ban prohibits travel from six predominantly Muslim nations -- Iran, Libya, Somalia, Sudan, Syria, and Yemen -- for 90 days and suspends the U.S. refugee program for 120 days.
On Monday, the Supreme Court agreed to partially revive Trump's controversial travel ban, and said it would make a decision on its legality in October.
Apparently, many Republicans in Congress feel Ginsburg should not be a part of that process.
In terms of the travel ban's partial revival, the Supreme Court decided people from the six nations it targets who "lack any bona fide relationship with a person or entity in the United States" will not be allowed to enter the country.
These relationships include having a spouse or close relative in the United States, people who've been accepted to study at U.S. universities, and people who've been hired to work at U.S. companies.