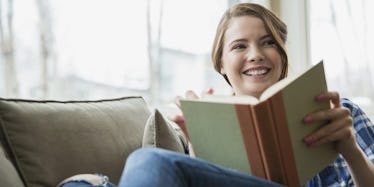 New Study Says Reading Will Make You Nicer, So Everyone Should Go Buy A Book
Getty Images
If you need a little motivation to get through the final pages of that book you started centuries ago, have no fear -- Kingston University provides.
According to research conducted at the London school, those who read instead of watch TV are more likely to behave in a "socially acceptable" way.
In other words, reading might actually make you a nicer person.
Out of the 123 participants quizzed on their book, play and TV preferences, the results show those who read are more inclined to consider someone else before themselves.
Those who binge watch show after show came across as less interested in others (to all of those who can't take their eyes off Netflix -- I'm sorry).
But there's a catch.
You can't just go from re-watching "Big Little Lies" to picking up the Liane Moriarty book and expect to be crowned Miss Congeniality.
If you want to be considered "nicer" you have to abide by genre rules.
Those who read fiction will show more positive effects of socializing, and those who read drama and romance novels are more empathetic, according to The Independent.
Fans of experimental books are also in luck, as well as those who can appreciate a good humor novel. Comedy fans scored the highest in relation to others.
The Independent quotes the researchers saying,
Engaging with fictional prose and comedy in particular could be key to enhancing people's empathetic abilities.
Still not convinced you need to renew your library card? Well then, you are sadly mistaken.
The Independent also reports that eHarmony finds those users who list reading as one of their hobbies are more attractive to the opposite sex.
Well, well, well — you don't say.
Just make sure you're not getting too kinky and adding "50 Shades of Grey" to your profile, as your messages will go down by 16 percent. That's a little too intimidating for guys, and they'll be forced to say "laters baby."
Now, if you're more inclined to work on your behavior — or add a little heat to your love life — start by checking out these May 2017 releases and enjoy the perks!
Citations: people who read books are nicer, study finds (The Independent), Book readers make the best lovers, reveals survey (The Independent)