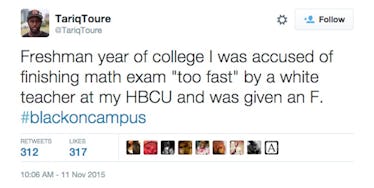 Twitter Users Reveal Experiences With Racism In College Using #BlackOnCampus
On Monday, University of Missouri System President Tim Wolfe resigned following protests over his response to race-related incidents on the school's campus.
In the days following his resignation, students staged public protests on the campus to continue the conversation about racial tension in America.
But the conversation has reached past the campus perimeters. People all over the country are joining in on the discussion, which, hopefully, will turn out to be a good thing.
On Wednesday, the Mizzou group Concerned Student 1950 asked black students and alumni to reveal their experiences with being "marginalized," using #BlackOnCampus.
Thousands of people took to Twitter to reply and share their stories of racism while in college.
Read a few of the tweets here, and join the conversation on Twitter.