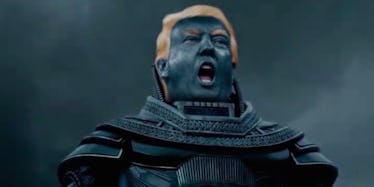 This 'X-Men: Apocalypse' Trump Parody Trailer Is Everything You Need
At this point, it feels like nothing can stand in the way of Donald Trump's presidential campaign. No matter what he says or does, his support remains unabated.
It feels like the end of days. This country had a good run, but it's time to say goodbye to the United States of America as we know it.
...Or is it?
Perhaps all we need is the right person, or people, to step in and save the day.
Perhaps what we need is a group of heroes to stand up and destroy Trump's campaign, showing no mercy whatsoever.
Perhaps what we need is the X-Men.
Indeed, it seems our only hope is a group of superheroes led by that bald guy who used to be in "Star Trek" (who is also sometimes played by that guy who once played Mr. Tumnus in "Chronicles of Narnia: The Lion, the Witch and the Wardrobe," but you probably forgot about that, didn't you?).
In all seriousness, Republican presidential candidate Donald Trump does have a significant amount of momentum right now, particularly after all of his success on Super Tuesday.
If Trump is your candidate, we highly suggest you take about 20 minutes of your time to watch John Oliver's impeccable analysis of the real estate mogul's campaign.
If Trump is not your candidate, we highly suggest you watch this hilarious "X-Men: Apocalypse" parody trailer to cheer yourself up about the impending collapse of America (and perhaps the world).