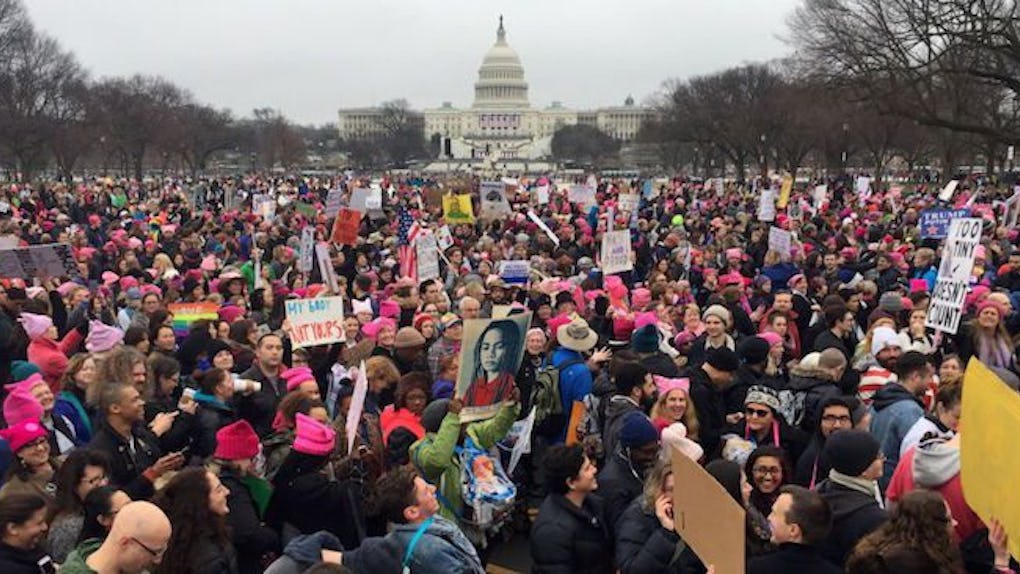 ANDREW CABALLERO-REYNOLDS/AFP/Getty Images
2017 Women's March Costumes Ideas For The Real Feminists Out There
It's almost officially October, which means its time to start thinking and planning Halloween costumes. In light of all the turmoil that is going on in our country, some people might want to escape reality for a night by choosing a costume that exists in a fictional TV show or transcends what is actually going on in the world. While that is a totally understandable approach, others might be interested in choosing a costume with meaning that actually makes a statement in light of recent issues. One of the monumental events that took place in 2017 was the Women's March at the start of the year, where millions gathered across the country to protest the day after the inauguration of Donald Trump as president. For those that attended or not, here are some costume ideas from the Women's March of 2017 if you want to represent the legacy of the historic events.
1. The Pink "Pussyhat"
If you saw any coverage from the Women's Marches, all you saw was floods of pink. Thousands of protestors of all ages showcased their "pussy hats" as a sign of solidarity. If you decide go minimal and wear this on Halloween, there need be no explanation of your feminism and your allegiance to women's rights. Buy it on Etsy from GaussHaus for $8 and all the proceeds will go to Planned Parenthood.
2. The Vagina Suit
The vagina suit is not only bold, but it's for a good cause. A couple from Brooklyn, under their new company name Conceived in Brooklyn have coined the term "Vagactivism" with their trending costume that draws attention to women's rights and celebrating the vagina, according to Slate. The company is also donating $10 of every $149 purchase to 50 Cents. Period., an organization that promotes women's health, menstrual hygiene, and sex education around the world. Shop the costume that people wore to protest at the march here for $149.
3. Rosie The Riveter
Rosie is a classic Halloween costume that is used every year, however this costume was also present at the marches in January and represents feminism in its early days. Find an easy replica of the costume for $25 at Costume Super Center.
4. The "NO!" Poncho
If you want to keep it simple, keep it warm, and keep it real, the "NO" poncho is for you. It's bound to start conversation and get your agenda out on the table. Find it for $125 at The Thing Quarterly.
5. Decorated With Pins And Patches
If you're not the type to go for outrageous Halloween costumes but still want to make a statement, the simple approach is for you. Get a jean jacket for $35 from H&M or use your own, and decorate it with the best women's rights pins and patches that were displayed at the women's march. The best part is you can reuse and re-wear it later. Find some of these pins and patches at Etsy.
6. Nasty Woman
Another simple, yet bold look is the "Nasty Woman" T-shirt that we have seem displayed on so many protestors. It's an easy, affordable costume that can definitely be reused after Halloween. And if anyone asks you what you are dressed as, you have a pretty direct, easy answer to give. Shop the shirt at Google Ghost for $25.
7. The Amy Schumer NASA Look
If you don't remember the look, let me remind you. Amy Schumer and Madonna posed together at the D.C. Women's March wearing orange NASA jumpsuits. Why orange? The color was come to represent gun violence awareness because it is the color that hunters wear in order to not be shot accidentally. If that's something you can get behind, shop the jumpsuit at Halloween Costumes for $40.
8. The Katy Perry Look
This look is probably the least bold in terms of women's rights, but its still spunky and original. Who wouldn't want to recreate this look and keep the separate items for later? Shop the yellow beret at Village Hat Shop for $17 and the puffy pink coat at Chichwish for $72.
Those are just a few Women's March 2017 inspired Halloween costume ideas to end the year with a bang and to be remember the legacy of January's Women's Marches all across the country.