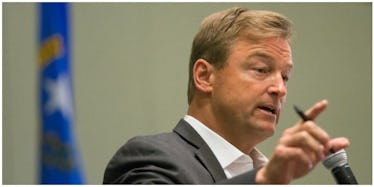 Women's Health Group Suggests Hilarious Ways To Contact Senators About Health Care
David Calvert/Getty Images
The fight to save the Affordable Care Act (ACA, aka Obamacare) continues -- and it's taking some unexpected turns. NARAL Pro-Choice America, a women's health organization which advocates for reproductive freedom, has been a loud voice in the health care debate, and they're now taking aim at Nevada Senator Dean Heller, whose position on the ACA repeal is ever-changing.
NARAL published a list of ways to contact Heller, who, to many, is the last line of defense against what could be a disaster for millions of people.
But it's not just your run-of-the-mill list of phone numbers, office locations, and e-mail addresses. No, it's much more creative -- and sure to get Heller's attention.
Send a carrier pigeon, they suggest. Or mail him a potato. Yes -- a potato. You can even put a photo of your face on it, though it would probably make more sense to inscribe a message, such as,
Please vote no on the ACA repeal. P.S., microwave on high for 10 minutes, and you have the perfect baked potato.
A singing telegram? You can do it. Or sky-writing, if you have the budget.
Hell, NARAL suggests, you could even make him a mixtape. (Maybe romance is the way to his heart.)
The women's health organization is targeting Heller in particular because he has been rather unpredictable when it comes to his vote on healthcare. He said that he wouldn't support the repeal effort as recently as June, and even that he would "protect Planned Parenthood," and then he voted "yes" on the motion to proceed with a debate to repeal the ACA.
NARAL's Nevada chapter sent handmaids to one of his offices to protest his possible support of the GOP's repeal and replace plan.
It seems that he's a "no" on the so-called "skinny repeal," the details of which are still unclear.
But hiring a plane to fly a banner over his office -- "HELLER, DON'T TAKE OUR HEALTHCARE" -- wouldn't hurt, either. You know -- just in case.