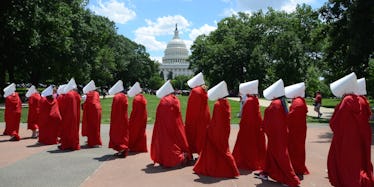 This Is What It's Like To Protest In 'The Handmaid's Tale' Costume
Kate Canfield at Timeless Perspectives Photography
On a rainy day in late June, around 30 women descended on Capitol Hill to protest the GOP health care bill.
But this wasn't just the typical group of women with homemade signs that D.C.'s become accustomed to. This was a group of women protesting in costumes from The Handmaid's Tale.
"That was much more powerful than I thought it would be," Kelly Merchant, a Planned Parenthood volunteer who participated in that protest tells Elite Daily in an interview about the experience.
The stark images of the women in the book and TV show's signature red capes and white "wings" standing in front of government buildings in the rain were arresting.
This particular group of women were protesting on behalf of Planned Parenthood. But they're not the only handmaids to have made a political appearance this year.
The Handmaid's Tale is about what happens if women fully lose rights to their own bodies. It is the ultimate nightmare to women paying attention to the current political climate, which is full of bills and stigmas that would take away women's bodily autonomy.
"I think it's really appropriate, very timely -- eerily timely for right now," Merchant says. "Having that single image of the outfits and having people working together to bring about awareness about what could happen and what we feel like as women is happening is really important and powerful."
Groups of women in costumes from The Handmaid's Tale have been protesting across the country for access to women's health care.
In early May, handmaids appeared at the Texas state Capitol to protest bills that restrict abortion access.
Just this month, members of NARAL Pro-Choice Nevada protested the GOP health care bill at Senator Dean Heller's office in Las Vegas on July 5.
And NARAL Pro-Choice Missouri held a handmaids "die in" outside Busch Stadium in St. Louis on July 9.
"It's weirdly creepy and sobering even just to be in the costume," Marianna Martin, who accompanied the Planned Parenthood handmaids in D.C., tells Elite Daily.
Martin and Merchant are volunteers and patients with New York State Planned Parenthood affiliates. Martin was not in costume for the D.C. protest -- she was recording the event -- but she has appeared in other handmaid protests.
"When you're in the costume, you do not make eye contact, you keep your head down, you have to stay in pairs," Martin explains.
Merchant agrees it's "not an easy costume" -- either to put on or to move around in. Your field of vision is blocked off by the "wings," you can't hear well, and you're supposed to keep your eyes down so you only see feet.
So the handmaids had to work together as a unit, following each other and getting aid from other volunteers, some of whom included men. This collaboration, Merchant says, is "what we should be doing as a community and as a country."
The handmaids' protests are supposed to symbolize the potential of women losing rights.
This is both on a national level, with things like Trumpcare, as well as on the state level, where legislatures are regularly passing abortion-restricting laws, for instance.
"[The Handmaid's Tale] is a creepy terrifying dystopia that seems all too real and all too possible right now," Martin says. "Women's voices are being silenced and we needed to show this in a symbolic gesture."
To Merchant, it's important that those who can stand up against restrictive laws -- even if those laws don't directly affect you -- take some sort of action.
"Standing up can be very, very difficult for some people. So I think it's really important that even though people feel overwhelmed or fearful, that they still take some sort of action. It doesn't have to be an action like this," she says. "But your rights don't just get snagged away from you 100 percent right away. They get taken away bit by bit by bit. It's designed like that for a reason. It can be very easy to ignore that, and then be like, 'What?!'"
To put it another way, as June said in The Handmaid's Tale: "Nothing changes instantaneously. In a gradually heating bathtub, you'd be boiled to death before you knew it."
Oh, by the way, the Senate is still debating the health care bill, and the phone number for the Capitol switchboard is 202-224-3121.