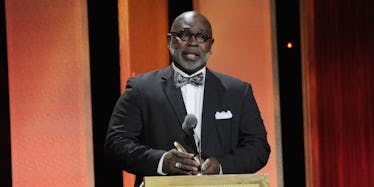 Abortion Protests Became "More Hostile" Since Trump Election, Provider Says
Brad Barket/Getty Images for Peabody
Dr. Willie Parker is no stranger to death threats.
As a black, Christian abortion provider who works in southern states -- and does so very publicly with press interviews, social media, and a book, Life's Work: A Moral Argument for Choice -- that's just the kind of thing that happens.
But there has "absolutely" been a change in anti-abortion protests since the election of Donald Trump, according to Parker, because "people who are opposed to abortion are becoming emboldened by the current administration. So protesters are becoming more hostile and aggressive," he says.
I caught up with Parker for an exclusive interview with Elite Daily at the Physicians For Reproductive Health Gala on June 5, where he presented an award to Dr. Yashica Robinson, an Alabama abortion provider, for outstanding courage in hostile and challenging environments.
Parker has been a sort of hero to me. A profile about him three years ago in Esquire was one of my first insights into the restrictive abortion laws going on in states outside of my relatively progressive New York. His story prompted my own research and reporting over the last few years, and I was floored to be able to speak with him in person.
Abortion clinics across the country regularly face protesters, and of course, there's the internet to make anti-abortion sentiment a constant conversation.
For Parker specifically, the changes have been prominent because of his identity.
As the Trump election was correlated with a rise in reported hate crimes, Parker heard an increase in attacks based in race.
"The effort to shame me by racializing abortion and making it appear that I'm committing some sort of atrocity against 'my own people' — that rhetoric has heated up," Parker says, referring to the conspiracy theory that abortion is a sort of "black genocide."
"I've had death threats, but most of them are because of the public access that I afford people through Facebook and Twitter," Parker continues. "But that certainly picked up in what people are perceiving to be Trump's America."
Under the current political climate, Parker says, abortion rights and access are under attack across the country -- not just in the South.
States in the South notoriously have a plethora of abortion-restricting laws. While the landmark Roe v. Wade Supreme Court case made abortion legal federally in 1973, states have been chipping away at access through regulatory laws.
"It's becoming as difficult in other parts of the country as people perceive it to be in the South," Parker says. "What that means is abortion access is becoming a national issue, and so it's going to require a national approach. It's going to require thinking locally and globally and acting locally and globally. It's not like you can do one or the other, you gotta play on both planes."
There are many things you can do on the local level to support access and rights.
"If you live in an area where you can volunteer or escort, or just even calling a clinic and say, 'Hey, we know that you're there, we know that you're facing hostility, we support you.' Any and all of that helps," Parker says. "Anything that you can do to raise consciousness or to show you're aware of the challenges women face and that providers face."
In terms of Roe itself getting overturned, Parker says you should be "worried enough to vote."
All it would take, according to Parker, is "a shift in the court and a president who's committed to politicizing women's health and is expected to gain political points by overturning Roe."
"They should be worried enough to vote because it is, more than ever before, within political possibility that Roe decision can be overturned, which means that abortion access will depend on your zip code versus it being illegal to outlaw," Parker says.
If Congress is flipped to be majority Democrat in 2018, Trump wouldn't have as easy a time getting laws through. This theory also works on the local level, where pro-choice politicians could prevent restrictive laws.
(So, you know, register to vote, pay attention to local elections, volunteer, and get involved if you care about this.)
Ultimately, Parker says, it's up to women to stand up to a potential loss of rights.
As his grandfather used to tell him, "nobody can ride your back unless it's bent."
"Despite the declared agenda to take away abortion access and contraception and medically accurate sex education -- all the things that allow women to be self-determinate -- the only way that kind of injustice can be perpetrated is if women just take it. Women need to stand up and exercise their political rights. They need to raise their voices," Parker says.
"With this administration, it's OK to feel dejected, but they shouldn't feel defeated," he continues. "We don't have to roll over and turn this country over to folk who don't have the best interest of women at heart, and it starts with each woman standing up and saying, 'I am not going to accept patriarchal marginalization.'"