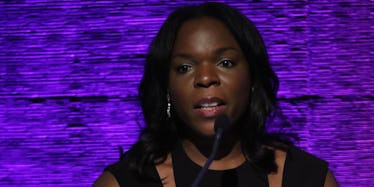 Why This Woman Went From Teen Mom To One Of Alabama's Only Abortion Providers
Doug Goodman / Physicians for Reproductive Health
Dr. Yashica Robinson is one of the only abortion providers in the state of Alabama, and she fights every day to ensure that she can still do her work.
On June 5 in New York City, Robinson was awarded the George Tiller, MD Award for outstanding courage in hostile and challenging environments by the Physicians for Reproductive Health. Tiller was an abortion provider in Kansas who was assassinated by an anti-abortion extremist in 2009.
"Even in the face of personal harassment, ostracism by [my] local medical community, a multitude of anti-choice legislation, and, yes, even in the face of a federal indictment, I still stand here," she said in her acceptance speech.
Robinson is the owner and founder of the Alabama Women's Wellness Center. Running an independent abortion clinic is no easy task anywhere in the United States, but it's especially difficult in a state like Alabama, where conservative values are strong and pro-life politics are plenty.
But Robinson's life has been a soaring success against the odds. I spoke with her after the awards ceremony about her journey for Elite Daily.
"Born and educated in the South, and having lost both of her parents and becoming a mother herself before finishing high school, Dr. Robinson graduated at the top of her class in college, finished medical school, residency, and OBGYN, and she hasn't missed a beat," Dr. Willie Parker explained while presenting her the award.
Becoming a mother in high school also helped inform Robinson's work, she tells me, following the Physicians for Reproductive Health Gala.
"Because I was going to be a mom, because there were so many people that had negative things to say about the decision that I made, that inspired me to do better, to work harder, because I didn't want my son to ever have to be ashamed of the decisions that I made," she says.
In deciding to become a doctor, she didn't specifically decide to provide abortions. Rather, she decided she wanted to do women's healthcare -- and abortions are just part of that.
"So I think the easier thing to tell you is that I just never made the decision that I would not provide this care," she says.
As a provider, she uses her motherhood story carefully to help guide young patients.
"I'm very careful about who I share the story with and how I share it, just because I know that my path, or the way things worked out for me, is not the way it tends to work out for most young ladies in that same position," she says. "However, for those that choose to continue a pregnancy, I want to be an encouragement for them."
Being one of the only abortion providers in Alabama keeps Robinson very busy.
One of her biggest challenges is not having local support -- which means she has to be doing a lot of work herself.
"Time that I take away from my practice means that women will not get care," Robinson says. That's part of a reason why -- on top of running the center -- she's working on programs to train new providers.
"We're actually getting a program off the ground where we'll have medical students coming and getting exposure to reproductive healthcare, getting exposure to abortions early on in their medical school training," she says. "We're also starting to work with a residency program so that residents can see that they can provide this care and still provide the full spectrum of women's healthcare."
Despite the challenges, Robinson is "very confident and passionate" about the work she does.
"First and foremost, I know that God protects me," she says when asked how she has the courage to do her work. "So my fear of the people that stand outside of my office and outside of the abortion clinic is not enough to keep me from coming through the doors each and every day.
"I pray every day when I wake up as I walk through those doors, but it's just knowing that there's a need for the work that I do and that I really love the work that I do. I know that it's very essential, so that motivates me to get up and do it, regardless of the protesters and the harassment."