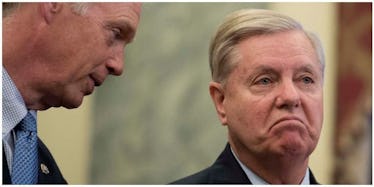 Will The GOP Succeed In Repealing Obamacare This Time? They're Sure Gonna Try
JIM WATSON/AFP/Getty Images
Just when it seemed like Trumpcare was over and done with, it has reared its ugly head once more. The Graham-Cassidy health care repeal bill is hitting the Senate floor at the end of September for review, and it really feels like a serious case of déjà vu. Despite being repackaged under a different name, the overall proposal has many of the same trappings of the previous "skinny repeal" bill.
Senators have until Sept. 30 to pass a new health care legislation with a simple majority of just 51 votes, as opposed to a supermajority of 60. In a last ditch effort to replace the current health care system, Republican Senators Lindsey Graham of South Carolina and Bill Cassidy of Louisiana have put together a proposal that would maintain most of Obamacare's tax structure, but would send block grants over to the states, so that they can create individual health care systems. However, that allotted money would not cover every American currently enrolled in Medicare. The bill would also eliminate the individual mandate, as well as allowing insurers to opt-out of important insurance regulations.
California Sen. Kamala Harris broke down her opposition to the bill in a video posted to social media.
Congress's nonpartisan budget analyst, the the Congressional Budget Office (CBO), is crafting a "preliminary assessment" of the bill that will be ready early next week. However, crucial information on how the proposal will affect health insurance premiums or how many Americans' medical coverage will be affected won't be ready until after the vote.
According to Senator Dianne Feinstein (D-CA), the bill would result in up to 32 million Americans losing their health coverage. She said,
The bill allows states to opt out of critical protections for those with pre-existing conditions and hits states that expanded Medicaid especially hard. California would be forced to pay more than $57 billion more by 2027 to offset the loss of federal dollars for Medicaid and tax-credit subsidies.
The proposal could also mean that "women will pay the biggest price of all," Dawn Laguens, executive vice president at Planned Parenthood Federation of America, explained in a statement. She wrote,
This bill is the worst Obamacare repeal bill yet: Millions of Planned Parenthood patients could lose their health care if the Graham-Cassidy bill were to pass -- millions more would lose their coverage through Medicaid, and could lose essentials like maternity care and coverage for prescription drugs. Policy on women's health care should not be written by a small group of male politicians behind closed doors. Enough is enough. With this latest version of Trumpcare, Americans will pay more and get less, but women will pay the biggest price of all.
Meanwhile, Graham and Cassidy took to Twitter to bolster the idea of turning the power over to the states to design their own health care systems.
Trump has yet to comment on the contents of the bill itself as of Sept. 18, but did celebrate Graham and Cassidy's efforts to work towards repealing Obamcare. He wrote in a statement,
I applaud the Senate for continuing to work toward a solution to relieve the disastrous Obamacare burden on the American people. As I have continued to say, inaction is not an option, and I sincerely hope that Senators Graham and Cassidy have found a way to address the Obamacare crisis.
As of Sept. 15, Cassidy seemed pretty confident that the bill had close to enough Republican support. The senator gave a briefing in his office and, according to USA Today, said that he had "probably got 48, 49 and [was] talking to two or three more."
Senator Rand Paul (R-KY) has already spoken out on social media against the proposal, declaring that it's too similar to Obamacare.
And what about John McCain, who managed to kill the last healthcare proposal bill back in July?
It appears he is still on the fence. On Sept. 6, he wrote in a statement,
While I support the concept of the Graham-Cassidy proposal, I want to see the final legislation and understand its impact on the state of Arizona before taking a position. As I have said all along, any effort to replace Obamacare must be done through the regular order of committee hearings, open debate and amendments from both sides of the aisle.
Here's hoping that McCain (along with Sen. Susan Collins and Sen. Lisa Murkowski) pulls through again with a last-minute, glorious shutdown. Fingers firmly crossed.