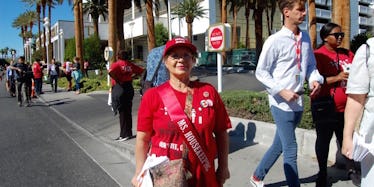 Trump's Vegas Employees Rally Against Him: 'He Needs To Respect Us As People'
A series of protests went down outside the Trump International Hotel Las Vegas on Wednesday, hours before the final presidential debate between Hillary Clinton and Donald Trump.
There were people from a variety of organizations – both pro-Trump and anti-Trump, as well as pro-Clinton.
There were bagpipes, because why not?
A "wall" was constructed right outside of the Trump International, as a message to Trump that people reject his call for a wall between Mexico and the United States, paid for by Mexico. It was a wall to keep Trump out of the White House, protesters said.
People signed the wall in support of the anti-wall sentiments and left messages for Trump.
There was a glorious "wall" of taco trucks, calling back to Trump's comment that there would be taco trucks "on every corner" if Clinton won the presidency.
The main anti-Trump protest was led by Trump's own employees from the Trump International hotel.
It was organized by the Culinary Union, which has been fighting with the Republican presidential nominee since before he became the Republican presidential nominee.
Trump hotel workers voted to unionize last year, but Trump has yet to meet for negotiations or sign contracts on it.
Bethany Kahn, spokesperson for the union, said,
Workers are protesting because they want their boss, Mr. Trump, who's a 50 percent owner of this hotel, to negotiate a contract. Workers are fighting for fair wages, job security and good health benefits.
Kahn said she's not intimidated by Trump's status as a presidential candidate. She told Elite Daily,
The Culinary Union for over 80 years has been protecting and fighting for workers in Las Vegas. We've fought multibillion-dollar corporations and billionaire bosses, and we always win.
Carmen has been working at the Trump International for four years as a guest room attendant cleaning rooms.
She told Elite Daily,
I have two feelings about Trump. One is he needs to sit with the workers and do the contract. The other feeling is private.
Above all, Carmen said, the workers were protesting for "respect" from Trump.
We're women, we're single mothers, working for him, and he needs to respect these people who work for him. We are just regular people working for him, immigrants who came to this country for opportunity. And he needs to respect us as people.
Kahn echoed this. She said she would tell Trump,
Please respect your workers. Their hands make your hotel run every day. You should do the right thing and negotiate a contract. You're paying them $3 less per hour than union workers all around the Las Vegas strip and that's not right. You should do the right thing and sign a contract.
Carmen was one of many Trump hotel workers wearing a pageant sash reading "Ms. Housekeeping."
This referred to allegations that Trump called a former Miss Universe from Venezuela "Miss Housekeeping," based on racial stereotypes.
I'm Ms. Housekeeping today -- and I'm Ms. Housekeeping every day, so he can get richer and richer.
Although Carmen was there protesting for her own rights as a Trump hotel employee, she worried about what he might be as a president, especially as she has a daughter and granddaughter. She said,
We can't imagine having a president who's going to talk that way about immigrants or women.
The presidential debate is being held on Wednesday night at the University of Nevada, Las Vegas. The election is on November 8.
Elite Daily and 50 other media organizations partnered with Rock The Vote to register 100,000 women to vote. You can register right here (and men can use it too) :
Citations: Huffington Post