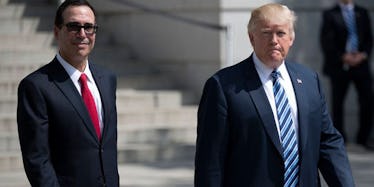 Trump's Treasury Secretary Helped Make 'Wonder Woman' Happen, So That's Awkward
Shawn Thew - Pool/Getty Images
If you're looking for a place to direct your thanks for the making of Wonder Woman, look no further than an unlikely source: the Trump administration.
More specifically, you can send your praise-hands emojis to the U.S. Department of Treasury, where former Goldman Sachs banker Steve Mnuchin sits as secretary.
Mnuchin is, after all, the man that helped finance the movie.
Allow us to explain.
Before resigning for ethical reasons for his service in Washington D.C., Mnuchin served as chairman of Dune Entertainment, a movie production company that has funded some of the most successful films over the past decade, such as Avatar and Gravity. 
In 2013, Dune partnered with RatPac Entertainment to seal a four-year deal with Warner Bros worth about $450 million . The deal created a new entity, RatPac-Dune Entertainment LLC, which would then finance up to 75 titles.
Among those titles? Wonder Woman.
Now, Wonder Woman has unquestionably become another of one of Mnuchin's success stories. The film generated over $100 million in revenue during its opening weekend, debuting as the number one movie at the box office.
The film has also taken on greater importance as a symbol of progress. Wonder Woman is the first superhero film of this scale to be directed by a woman, Patty Jenkins.
In addition, this film had the highest grossing opening weekend for a film directed by a woman, breaking a record set by Sam Taylor-Johnson's Fifty Shades of Grey by over $100 million.
Add in the fact that Wonder Woman is the first superhero film with a female lead since Halle Berry starred in Catwoman, which is a movie that is otherwise not worth mentioning.
So yeah, you could say the success of Wonder Woman is symbolic for women's progress, and "women's progress" isn't exactly the first thing you'd associate with the Trump administration.
But here we are, thanks, in part, to Steve Mnuchin.
Citations: Did You Know Trump's Treasury Secretary Helped Produce Wonder Woman? (Jezebel)