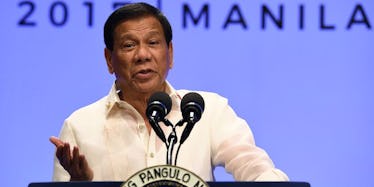 Trump's New Friendship With Murderous Leader Has People A Little Concerned
Getty Images
President Donald Trump has begun yet another bromance with a murderous authoritarian.
He really seems to have a knack for this.
On Saturday, the president spoke with Philippines' President Rodrigo Duterte and invited him to the White House.
They apparently had a "very friendly conversation," according to The New York Times.
Senior officials told the Times both the State Department and the National Security Council were "caught off guard" by this invitation. Both apparently expressed their objections to it.
Duterte has been accused of numerous human rights abuses in his violent campaign against drugs.
He's condoned the extrajudicial killing of drug dealers and users and even claimed to have killed several criminals himself, which prompted United Nations human rights chief Zeid Ra'ad al-Hussein to suggest Duterte be investigated for murder.
Over 7,000 have reportedly been killed in the Philippines since Duterte came into power, who several months ago likened himself to Adolf Hitler.
He said,
Hitler massacred 3 million Jews. Now there is 3 million, what is it, 3 million drug addicts (in the Philippines), there are. I'd be happy to slaughter them. At least if Germany had Hitler, the Philippines would have (me). You know my victims, I would like (them) to be all criminals, to finish the problem of my country and save the next generation from perdition.
Duterte also once called former President Obama a "son of a whore" and said he'd burn down the UN headquarters in New York City if he came to America.
But Trump, who's already expressed admiration for other authoritarians like Putin, Sisi, Erdogan and more recently even North Korean leader Kim Jong Un, seemingly has no problem with any of this.
Trump, who has business ties in the Philippines, has come under a lot of criticism for being so cordial with Duterte and praising his approach to drugs.
There's a 57-floor tower in Manila with Trump's name on it, which real estate tycoon Jose E.B. Antonio helped build.
Interestingly, Antonio was also named special envoy to America by Duterte shortly before Trump's election victory.
Note: Many have suggested the above image of Ivanka is recent, but it's reportedly from 2012. Regardless, it highlights Trump's business interests with the Philippines.
By inviting Duterte to the White House, many feel Trump is eroding America's moral standing.
Long story short, this looks really bad and will arguably make it harder for the US to decry human rights abuses in other countries -- including Syria.
Duterte reportedly might be too busy to accept the President of the United States' invitation, but the fact it was extended at all speaks volumes.
Citations: Trump's 'Very Friendly' Talk With Duterte Stuns Aides and Critics Alike (The New York Times), 'They Are Slaughtering Us Like Animals' (New York Times), Philippines' deadly drug war praised by Donald Trump, says Rodrigo Duterte (The Guardian), Philippines President likens himself to Hitler (CNN), Trump's Call To Turkey's Erdogan Highlights The Ethical Mess He's Brought To The White House (Huffington Post)