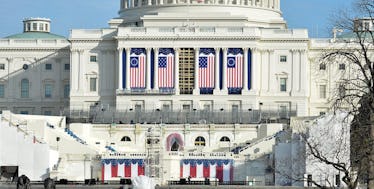 Trump's Inauguration Might Cost More Than Any Other, And You'll Get The Bill
REUTERS
The inauguration of Donald Trump is coming up this Friday, whether this is a reality your brain agrees with or not -- and it's going to cost the country a whole lot of money.
The inauguration will be a grand-ish affair with a lack of local marching bands and performances by absolutely relevant celebrities like 3 Doors Down.
There will be events on the National Mall on Thursday with the real deal going down on Friday at Capitol Hill.
Many Democratic politicians are boycotting the inauguration in protest of Trump's harsh policies and Goldman Sachs-stuffed cabinet.
There are six times as many buses coming for the Women's March against Trump on Saturday than there are for the actual inauguration on Friday, and the Trump camp is at the point of using targeted Facebook ads to try to convince fans to show up in support.
This clearly ridiculously popular event, for a president-elect who lost the popular vote by close to three million, is a costly affair.
The grand total of Trump's inauguration could be more than $200 million, according to the New York Times.
By far the biggest part of that cost is security, which could be more than $100 million.
That estimate came from a combination of the costs of previous inaugurations and estimates from officials planning this inauguration.
The total cost is not exactly clear because it could change based on how many people show up and the weather for the day.
For now, it looks like it might literally rain on Trump's parade, with weather forecasts indicating showers with temperatures in the 40s.
(If you're heading to D.C. for the Women's March, the rain is supposed to clear by Saturday and temperatures are projected to be in the 50s.)
Then again, if this election taught us anything, it's that projections and forecasts can be very, very wrong.
This potential $200 million is being paid for by private donors and taxpayers (hooray!).
The organizations handling the payment are the Joint Congressional Committee on Inaugural Ceremonies, the Presidential Inaugural Committee, the federal government and state and local governments.
Citations: S & WORLD POLITICS Trump is using targeted Facebook ads to woo more people to his inauguration party (The Verge), It's official: Clinton swamps Trump in popular vote (CNN), How Much Will the Inauguration Cost, and Who's Paying? (New York Times)