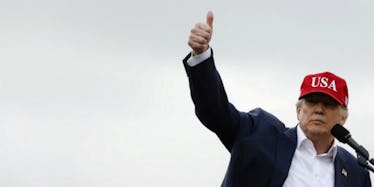 Trump Said He's Going To Take Inauguration Weekend Off From Work
Reuters
President-elect Donald Trump stated that, after he is inaugurated on Friday, January 20, his first order of business will be TO TAKE THE WEEKEND OFF!
Truly, he's the people's president.
So, you can take this song...
And treat it like Trump's tax returns, and NEVER SEE IT AGAIN.
According to the Presidential Inaugural Committee's Chairman Tom Barrack, Trump is also much more concerned about how his inauguration party will turn out rather than dealing with more serious issues.
Barrack told The New York Post,
He's into every detail of everything. I beg him all the time to go back to running the free world and let me focus on setting the tables.
But we all know how much Trump enjoys a good party.
AIN'T NO PARTY LIKE A DONALD TRUMP PARTY, BECAUSE A DONALD TRUMP PARTY GOT A DOG IN A TOP HAT WALKING ON HIS HIND LEGS, WITH ITS PRIVATES SHAVED TO LOOK LIKE A CUMMERBUND, I ASSUME.
This week is going to be FULL of parties and will cost more than any other inauguration, so Trump really does deserve the weekend to himself after becoming leader of the free world.
Wow, it seems like he has a few things in common with R. Kelly, like golden showers, and these "Ignition" lyrics.
It's the freakin' weekend/Baby I'm about to have me some fun.
Trump told the Times of London:
[D]ay one — which I will consider to be Monday as opposed to Friday or Saturday. Right? I mean my day one is gonna be Monday because I don't want to be signing and get it mixed up with lots of celebration.
Trump's festivities over the inauguration week include a Chairman's Dinner on Tuesday, where he will eat with diplomats, dignitaries and campaign donors.
On Wednesday, 500 guests will attend the Vice President's Dinner and the Cabinet Dinner.
On Thursday, the National Mall will host a concert, with a candlelight dinner at Union Station with 1,500 guests.
Friday, Trump will pray at St. John's Episcopal Church, go to the White House for coffee with Barack and Michelle Obama, and attend his swearing-in and the inaugural parade.
Then, he and Congress will have lunch on Capitol Hill. Following lunch, he will attend three inaugural galas.
On Saturday, he will have a prayer breakfast at the Washington National Cathedral.
Then, after all the parties and meals, he can finally enjoy his weekend.
I'm not sure how signing orders that promise "strong borders" could get confused with "lots of celebration" and parties, but this is 2017, and Donald Trump is going to be our president.
Citations: Donald Trump is micromanaging his inauguration parties, then taking the weekend off (Salon)