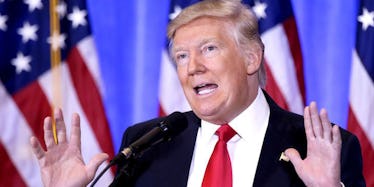 People Think This Trump Video Proves He Really Does Get Golden Showers
REX/Shutterstock
Another day, another piece of Donald Trump's past come back to haunt him.
An old interview between the president-elect and former gossip columnist A.J. Benza has resurfaced and people think it's 100 percent linked to his alleged "golden showers" fetish.
The interview, recorded on the "Howard Stern Show" back in 2001, hears Trump and Benza going at it over a woman they both dated.
Benza claims Trump would call him about his sexcapades and boast Russian women "have no morals."
The exchange happens around 4:10 in the clip above.
Stern: Donald, how did you feel following A.J., seriously?
Trump: I didn't even think about it.
Benza: He don't think of nobody but himself.
Trump: I assume A.J.'s clean -- I hope he's clean.
Benza: He bangs Russian people.
Trump: Who are you talking about, Russian, A.J., I don't know anything.
Benza: Listen to me, he used to call me when I was a columnist and say, "I was just in Russia, the girls have no morals, you gotta get out there -- he's out of his mind, this guy."
Trump: A.J. -- I won your girlfriend. You know it, she knows it and everybody knows it. A.J. I have indisputable proof and you know it.
People on Twitter are getting pretty excited about the possibility of this being linked to that seedy part of the Trump dossier.
The dossier was released earlier this week, and allegedly written by a British intelligence officer.
The document includes information about Trump's financial and personal life, which was gathered by Russian intel to be used as a blackmail weapon.
However, the dossier is unverified, and includes some clear inaccuracies. Some have speculated the whole thing is a hoax that originated from 4chan.
Trump strongly denied the allegations on social media and at a press conference on Wednesday.
Citations: In 2001, a gossip columnist discussed Donald Trump's Russian sexcapades on 'Howard Stern' (Death And Taxes)