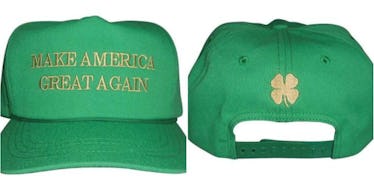 Internet's Roasting Trump For Really Dumb Mistake On St. Paddy-Themed Hats
shop.donaldjtrump.com
Get ready for parades, everyone in sight wearing green and a whole lotta Guinness because St. Patrick's Day is coming up.
But there may be a brand new addition to this year's celebrations -- green "Make America Great Again" hats.
Yes, the POTUS is doing his best to ruin St. Paddy's Day for the rest of us by launching a new line of hats in time for the big day on March 17.
Seriously, though. Has Trump forgotten he is actually the president now and doesn't need to keep campaigning or selling ugly merch? BRO, YOU WON.
Either that or he's trying to make a quick buck (and by that, I mean 50 quick bucks because the hat will cost you an absolutely outrageous $50. Form a line, guys!).
However, in a hilarious twist, Trump and his team have made a pretty dumb mistake with the design of the hat.
Have you worked out what it is yet?
Here's your last clue...
You might think this gold shamrock on the back of the hat is a classy touch.
But you'd be wrong -- because it isn't a shamrock at all.
Shamrocks have three leaves, and the design on Trump's hat is a four-leafed clover, which is not the symbol of Ireland.
Fortunately, the mistake was picked up by people on Twitter, who relentlessly trolled the president for the completely avoidable error.
Make America Smart Again!
This sums it up.
"FAKE NEWS!"
Seriously, the president's team would have been fine if they'd just looked at the damn emoji first.
Irish people were NOT happy to be associated with the POTUS.
Wait, were these made in China, too?
Awkward.
So if you're out celebrating St. Paddy's Day and you spot someone wearing this hat, you can politely let them know about the mistake.
Or don't mention it all -- just remember they've spent $50 of their own money to buy the ugly thing.
Citations: Donald Trump launches Irish 'Make America Great Again' hat – with one huge mistake (Indy100)