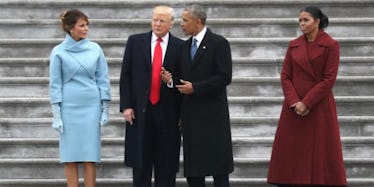 Trump And Obama Trash Talk Each Other In Inauguration's 'Bad Lip Reading'
REUTERS
These are the heroes we need right now: people dedicated to providing bad lip readings.
The future of the nation is quite a scary thing.
President Donald Trump is following through on many of his terrifying promises, such as his proposed ban on refugees and Muslims and using American tax dollars to fund his wall on Mexico's boarder.
But at least we can laugh at this "Bad Lip Reading," right? Right???
Finally, we know what was said during those private moments with Trump, including what the incoming first lady of the United States got Michelle Obama in that blue Tiffany's box.
Other key moments include Mike Pence calling the former reality TV star and now president Trump his "prince" and a lot of nervous groaning.
We even discover Hillary Clinton and George W. Bush's plan to "squeeze" Trump.
The cherry on top of the cake is realizing just how awkward the dancing at the Liberty Ball truly was -- made even more awkward due to the fact "Bad Lip Reading" removed the music and had Trump provide his own acoustics.
Seriously, it looks like Vice President Mike Pence and his wife Karen, whom Pence literally calls "mother" and that's not weird at all, are looking for the exits.
We have had Donald Trump as our president for six days now, and this may be our first and only joy for a long time to come.
The Republican president already signed executive orders to approve the construction of the controversial Keystone XL and Dakota Access pipelines, took action against sanctuary cities and stripped them of federal grant money and rejects well known science that shows climate change is fucking real.
But hey, at least we have this...
It's true, these past six days in Trump's America feel like a lifetime's worth of fear. It's going to be a long four years. We better find ways to laugh while we still have open internet.
Citations: "INAUGURATION DAY" — A Bad Lip Reading of Donald Trump's Inauguration (YouTube)