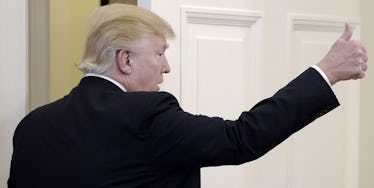 Trump Naming April Sexual Assault Awareness Month Is Best April Fools' Joke Yet
REUTERS
President Donald Trump – who has been accused of sexually assaulting numerous women – has named April National Sexual Assault Awareness and Prevention Month.
Yes, we're aware it's April 1... but this is not an April Fools' joke.
An official announcement was made on the White House's website, which detailed how the Trump administration "will do everything in its power to protect women, children and men from sexual violence."
Trump – who has fiercely denied committing a number of sexual assaults dating back decades – has been accused of hypocrisy over the awareness month.
It comes just a day after POTUS attracted criticism for releasing a video celebrating the role of women in America.
In response to his latest announcement, a lot of people had the same question:
In fact, National Sexual Assault Awareness and Prevention Month has become a tradition in the White House, ever since it was launched by Trump's predecessor.
Barack Obama introduced the month at the start of his eight-year presidency back in 2009, and the White House will continue raising awareness under Trump.
In the announcement, the president said,
I urge all Americans, families, law enforcement, health care providers, community and faith-based organizations, and private organizations to support survivors of sexual assault and work together to prevent these crimes in their communities.
The irony was clearly not lost on people, who called out Trump with some absolutely savage comebacks on Twitter.
After all, this is the same man who has been accused of a large number of shocking sexual attacks that go far beyond his infamous "grab them by the pussy" comments.
They include claims that Trump groped several beauty pageant contestants, including a former Miss USA.
In a separate incident, he is alleged to have walked into a room while contestants were changing.
Trump has been accused of saying he would date young girls when they are older and pinning a journalist against a wall and kissing her. He has also been accused of raping a 13-year-old girl, who later dropped her case against him.
There are plenty more allegations, too. They are all listed over at The Cut.
Citations: An Exhaustive List of the Allegations Women Have Made Against Donald Trump (The Cut)