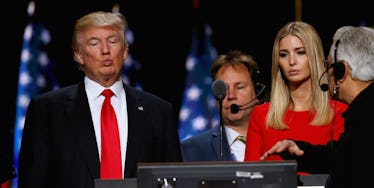 Ivanka Trump Finally Speaks Out On Dad's 'Grab Them By The Pussy' Comments
REUTERS
Ivanka Trump finally addressed the now infamous video known as the "Trump Tape," in which her father bragged about sexual assault.
In a statement released to Fast Company, she said,
My father's comments were clearly inappropriate and offensive, and I'm glad that he acknowledged this fact with an immediate apology to my family and the American people.
In the wake of the notorious "grab them by the pussy" video, it also came to light that Donald Trump once told Howard Stern it was alright to call Ivanka a "piece of ass."
This fact, combined with a number of women accusing the real estate mogul of assault, has left the Republican presidential nominee's campaign in disarray.
But it appears his daughter is standing by him throughout all of this.
In an interview with Fast Company that's separate from the statement she provided, Ivanka said,
The greatest comfort I have is the fact that I know my father. Most of the people who write about him don't. I do. So that gives me an ability to shrug off the things that I read about him that are wrong.
She did say, however, that she does not intend to take a government job if her father ultimately becomes president.
Trump's wife, Melania, has also stood by him. She spoke with Anderson Cooper on CNN on Monday about the recent scandals surrounding her husband's campaign.
Melania Trump defended her husband, and said the allegations against him are "lies."
She told Cooper,
I believe my husband, I believe my husband — it was all organized from the opposition. They can never check the background of these women. They don't have any facts.
Melania Trump also seemed to blame Billy Bush – who was speaking with Trump in the Trump Tape – for what happened.
She said Bush "egged on" her husband.
These remarks, in particular, generated a great deal of backlash and mockery on Twitter via the hashtag #BillyBushMadeMeDoIt.
The release of the Trump Tape ultimately prompted NBC to fire Billy Bush from the "Today" show.
Meanwhile, in spite of all the controversy surrounding him, Donald Trump is still a presidential candidate.