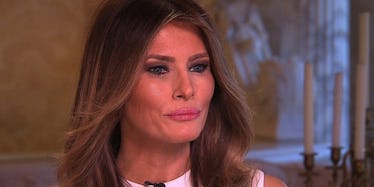 Melania Tried To Blame Billy Bush For 'Egging On' Trump, Twitter Says 'Nah'
YouTube
On October 8, a video was obtained by the Washington Post that featured Republican presidential nominee Donald Trump saying a number of absurd things about women.
One of the most infamous lines from Trump's leaked "Access Hollywood" tape from 2005 is the statement "Grab them by the pussy."
If you haven't heard or seen the tape yet, you're one of the lucky ones. Despite the fact that you should probably see it, I don't blame you for keeping such negativity out of your life.
Weeks later, Melania Trump is finally ready to talk about the leaked tape, which featured former NBC television host Billy Bush who was recently fired by the network.
Donald Trump's 46-year-old wife sat down for an interview with CNN's Anderson Cooper about the tape, saying,
I said to my husband that, you know, the language was inappropriate. It's not acceptable. And I was surprised, because that is not the man that I know.
Throughout the three-minute video, Trump can be heard talking about how, as a celebrity, he can do "whatever" he wants when it comes to women.
He said that he's "automatically attracted" to beautiful women and that he just starts "kissing them."
As Billy Bush laughed and played along with the vile remarks spewing from Trump's face, neither of them knew this tape would come back to haunt them 11 years later.
Melania continued,
And as you can see from the tape, the cameras were not on -- it was only a mic. And I wonder if they even knew that the mic was on.
After starting off the interview WITHOUT pointing any fingers (not even at her husband), Melania decided to continue voicing her thoughts on the controversial footage by flat-out blaming Billy Bush for Trump's actions.
Melania says that Trump was engaged in "boy talk, and he was led on -- like, egged on -- from the host to say dirty and bad stuff."
You read that right.
Melania Trump is actually blaming Billy Bush for the craziness that grown-man Donald Trump uttered. Well, Melania, I don't know if that excuse is going to hold up any longer.
I mean, Bush was JUST fired by NBC.
When asked if she had ever heard Trump say anything like what she heard on the tape, Melania explained,
No. No, that's why I was surprised, because I said like I don't know that person that would talk that way, and that he would say that kind of stuff in private.
Well, Melania, allow Mr. Trump to reintroduce himself.
Still, she's convinced it was just "boy talk" that the now-fired Billy Bush is responsible for (in her eyes).
I heard many different stuff -- boys talk. The boys, the way they talk when they grow up and they want to sometimes show each other, 'Oh, this and that' and talking about the girls. But yes, I was surprised, of course.
Despite the fact that Melania's interview with CNN is her first on-camera interview regarding the leaked tape, this isn't the first time she's spoken on the matter.
In a past statement regarding Trump's remarks alongside Billy Bush, Melania stated,
The words my husband used are unacceptable and offensive to me. This does not represent the man that I know. I hope people will accept his apology, as I have.
I guess she decided to bite her tongue and refrain from completely blaming Billy Bush for the ordeal... until now.
Perhaps the best part about this (as usual) are the tweets from outraged Twitter users using the hashtag #BillyMadeMeDoIt.
The hashtag #BillyMadeMeDoIt began trending after Melania Trump publicly blamed the former NBC host for "egging" Trump on in the leaked tape from 2005.
As you can see, not many people (in their right mind) are buying it. Instead, they're mocking Melania Trump's comments by blaming Billy for, well, everything.
What Melania basically said is that Billy Bush, not Donald Trump, is responsible for the vile words that came out of her husband's mouth.
Apparently, Bush is responsible for THIS, too.
Ah, the Internet... So funny. So right. Nice try, Melania!
You know, whenever I royally fuck up, I'm just going to blame Billy Bush for it.
It seems to be doing quite well for the Trumps since the man is still running for POTUS.
I'm sure Ryan Lochte's somewhere pissed off right about now...
Because, according to Melania, you can do ANYTHING on your own and still blame Billy Bush.
Literally anything... Even this.
Hey, does anyone know if Melania Trump is also blaming Billy Bush for the women who spoke out saying that they were allegedly sexual assaulted by Donald Trump in the past?!
Citations: Melania Trump: Donald Trump was 'egged on' into 'boy talk' (CNN)