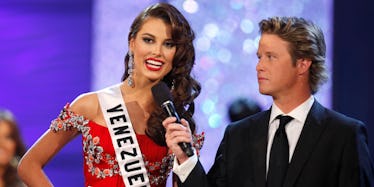 Bush Loses Dream Job Over 'Pussy' Convo, Trump Still Gets To Run For President
REUTERS
Billy Bush is reportedly leaving NBC after a video surfaced in which he laughed and egged Donald Trump on as the real estate mogul bragged about sexual assault.
In the now infamous video, Trump said being a "star" basically allows him to walk up to women and "grab them by the pussy."
Throughout the conversation, which occurred on a bus, Bush never once objected to Trump's remarks.
To top it all off, once the two got off the bus, Bush essentially acted like Trump's "hug pimp" (as John Oliver aptly called him), and asked an actress if she would hug "The Donald."
Bush then asked if she would also hug him, referring to himself as "The Bushy."
This reprehensible behavior has led NBC to sever its ties with Bush, and it's no longer a matter of "if" he leaves the network for good, but "when," POLITICO reports.
Other sources have issued similar reports.
If you listened to the conversation Bush had with Trump, this decision is completely understandable.
At the same time, it seems as though a TV personality is being held to a higher standard than a presidential candidate.
While Bush's career is over for the foreseeable future, Trump could still be elected president in a little less than a month.
Yes, Trump's campaign has certainly taken a major hit from all this, and his opponent, Hillary Clinton, is doing very well in the polls in the aftermath.
But, if you look at some of the issues or moments that have dismantled presidential campaigns in the past, such as Howard Dean screaming "BYAH" back in 2004, it's somewhat shocking Trump's campaign is still going at all.
All of this really makes you think about the extreme levels of misogyny many American voters are seemingly OK with, and how unprecedented and strange this election cycle has been.