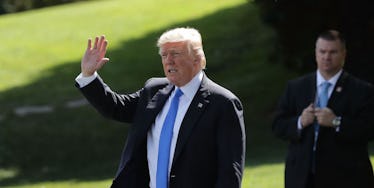 Trump Just Blocked A Lot Of People On Twitter, Which Could Be A Big Problem
Chip Somodevilla/Getty Images
"Trump has blocked me from reading his tweets," reads author Stephen King's Twitter. "I may have to kill myself."
"Happens to the best of us," reads the top tweet response from a verified user named AJ Joshi.
"Welcome to the blocked club," reads another, from user Holly O'Reilly (@AynRandPaulRyan), "I brought cake!"
Being blocked by President Donald Trump has become something of a badge of honor, much like gaining the coveted top response to one of the president's tweets. At this point, around 40 people have been blocked, according to HuffPost.
But what is a pithy Twitter bio joke and even a point of pride for some is troubling to others.
In fact, it may not even be constitutional.
Which is why the Knight First Amendment Institute at Columbia University, acting as representatives for several blocked Twitter users, including O'Reilly, sent a letter to the President on June 6, stating that his actions are a violation of the First Amendment.
Alex Abdo, Senior Staff Attorney at the Knight Institute, explained in an email to Elite Daily that the nonprofit believes Trump's Twitter account functions as a public forum, open to all, regardless of opinion.
The crux of the public forum argument lies in the repeated instances of the president using his person handle (@realdonaldtrump) in an official capacity and the ability of people to comment and use his tweets in order to engage in public discourse.
For instance, Abdo says, though the account was started when Trump was a private citizen, his Twitter bio reads, "45th President of the United States of America."
He has also made official announcements from the account, "sometimes first or only from that account," Abdo states, citing the announcement that Christopher Wray would be nominated as FBI Director (which did not appear on @POTUS).
Further strengthening the Knight Institute's argument, Abdo says, is the fact that "the Press Secretary has described the President's tweets as 'officials statements' of the President; the Social Media Director has help[ed] run the account and listed the account as one of the ways the President directly engages with the American public."
That means Trump no longer has a constitutional right to block people with whom he disagrees, the Knight Institute argues.
And, Abdo says, they're hoping he will unblock their clients. If not, they "will seriously consider litigation."
The Institute initially reached out to clients based on their public complaints, but that was just the beginning.
"Since filing our letter, many others have reached out to us," Abdo says. "Around 40 or 50 people have reached out to us, the majority about being blocked by President Trump, but some about being blocked by other politicians."
The issue, he stresses, isn't just a Trump problem, or partisan either -- both Democratic and Republican officials have blocked people.
"We're focused on this issue because more and more, public officials are engaging with their constituents online, and it's critical to make sure the First Amendment doesn't get left behind in the physical world," he says.