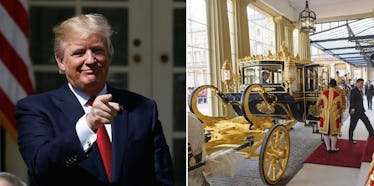 Trump Demanding Golden Carriage Ride Is Further Proof He's Scrooge McDuck
REUTERS
President Donald Trump is apparently demanding to take a ride in a golden royal carriage when he visits England later this year, because of course he is.
To be fair to Trump, when dignitaries officially visit Britain, it's standard for them to take a carriage ride from the Horse Guards Parade to Buckingham Palace.
But, there are many reasons why it's a bad idea to do so. President Barack Obama, for instance, did not take the carriage ride.
It's easy to understand why Trump would want to ride in the carriage, which is super swanky:
It's common knowledge Trump is obsessed with all things gold.
Gold apartment, gold Easter eggs, gold Oval Office curtains, golden showers -- you name it, Trump wants it in gold.
But there are legitimate reasons why Trump shouldn't demand to take a ride in the golden carriage.
So, back in 2011, Obama did not travel in the official carriage. Instead, he took his highly-protective armored limousine.
The president's crazy limousine protects America's leader from bullets, chemical attacks and even a small bomb.
That's generally comforting if you care about the safety of the president of the United States.
Safety is especially important because Trump's U.K. visit is very controversial.
Over 1.8 million people signed a petition calling for Trump to not be granted a formal state visit to the United Kingdom.
Because of that petition, the British Parliament had to debate the issue, ultimately deciding to reject that request.
British security is expecting a ton of protesters when Trump makes his visit in mid-October.
And they'd, like, really appreciate if Trump stayed as secure as possible.
"If he's in [the presidential limo] he is incredibly well protected and on top of that it can travel at enormous speed," a source told the Times. "If he is in a golden coach being dragged up the Mall by a couple of horses, the risk factor is dramatically increased."
It's estimated that policing for Trump's visit in London will cost up to £7 million (roughly $8.8 million in U.S. dollars).
Then again, it's not like Trump particularly cares about what he's costing taxpayers.
When Trump wants to ride the cool toy, Trump will throw a tantrum until he gets his way, no matter the cost to everyone else -- including himself.
Citations: Trump demands gold‑plated welcome (The Times), Trump Reportedly Insists On Traveling In Lavish Carriage During UK State Visit (Huffington Post), UK government rebuffs petition to downgrade Trump's visit (CNN)