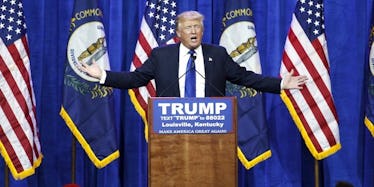 Trump Commanded Supporters At Rallies To Assault Protesters, Judge Rules
REUTERS
President Donald Trump is once again learning words have consequences after a federal judge rejected his free speech defense against a lawsuit that accuses him of inciting violence against three protesters at a rally last March, BuzzFeed News reports.
The incident occurred in Louisville, Kentucky, on March 1, 2016, when several of Trump's supporters reportedly punched, shoved and forcibly removed the three protesters after he shouted, "get 'em out of here," repeatedly.
The protesters, Kashiya Nwanguma, Molly Shah and Henry Brousseau, said they were there to peacefully protest Trump.
After what happened, they filed a lawsuit against Trump accusing him of encouraging violence against them. They also say there were subjected to racial and sexist slurs.
Trump's lawyers attempted to argue Trump was not trying to incite violence or aggression, but was simply exercising his right to free speech.
On Friday, however, US District Judge David J. Hale of Kentucky ruled the lawsuit can move forward.
According to BuzzFeed News, Hale said,
It is plausible that Trump's direction to 'get 'em out of here' advocated the use of force. It was an order, an instruction, a command.
The Supreme Court has ruled speech that incites violence is not protected by the First Amendment to the US Constitution, and Hale argued the protesters' injuries were a "direct and proximate result" of what Trump said.
The plaintiffs are seeking "unspecified financial damages," according to BuzzFeed.
What occurred at the March 1 rally was not the only violent incident to transpire at a Trump rally.
There were also other instances in which Trump appeared to incite aggression or violence against protesters.
For example, at a rally in Iowa, Trump told the crowd he'd heard some protesters might throw tomatoes, and said,
So if you see somebody getting ready to throw a tomato, knock the crap out of 'em, would you? Seriously. OK? Just knock the hell — I promise you, I will pay for the legal fees. I promise. I promise.
According to ABC News, on a separate occasion in Las Vegas, Trump said he wanted to punch a man who disrupted a rally "in the face."
He added,
Oh, I love the old days, you know? You know what I hate? There's a guy, totally disruptive, throwing punches, we're not allowed to punch back anymore. I love the old days, you know what they used to do to guys like that when they were in a place like this? They'd be carried out in a stretcher, folks. Oh, it's true.
All of this has come back to haunt Trump, as Judge Hale cited previous instances of violence at the president's campaign rallies in his decision to allow the lawsuit to move forward.
Clearly, Trump should probably avoid such language at events or rallies in the future.
Citations: Trump Encouraged Violence Against Protesters (BuzzFeed News)