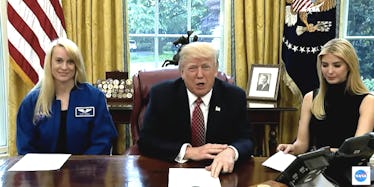 Trump Bringing Ivanka In To Ask A Female Astronaut Questions Is Concerning
YouTube
President Donald Trump had a public call with astronaut Peggy Whitson. For some reason, Ivanka Trump was on the call, too.
The video call took place on Monday morning. Trump, along with Ivanka and NASA astronaut Kate Rubins, were in the White House. They spoke with Whitson and Jack Fischer, who are on the International Space Station.
Objectively, it was a really cool call. It was broadcast live, and a bunch of schools were watching, according to the president. The astronauts were hanging out, letting the microphone float and doing casual somersaults, as one does when in space.
Trump called to congratulate Whitson on breaking a NASA record.
She just set a new American record for most cumulative time spent in space. As of Monday, Whitson's been in space for longer than 534 days -- the previous record.
"I want to say that this is a very special day in the glorious history of American space flight," the president told Whitson on the video call. "That's an incredible record to break, and on behalf of our nation -- and, frankly, on behalf of the world -- I'd like to congratulate you. That is really something."
Although it made sense for Trump to have astronaut Rubins with him, no one really understood what Ivanka was doing there.
Ivanka is now an official (unpaid) White House employee, but she doesn't have much space expertise as far as we know.
Ivanka and Education Secretary Betsy DeVos hosted an event at the National Air and Space Museum last month where she discussed "Hidden Figures" and NASA.
She was criticized for this appearance.
"Education Secretary Betsy DeVos and Ivanka Trump are feigning an interest in STEM careers with a photo op at the National Air and Space Museum while eliminating all funding for NASA's education programs. This takes chutzpah to a new level," Randi Weingarten, president of the American Federation of Teachers, said.
The president's budget called for a slight decrease in NASA funding, from $19.3 billion to $19.1 billion. But that slight decrease cuts funding from science and education programs.
As it turns out, Ivanka was brought on the call to ask Whitson about gender.
Trump introduced his daughter as "another impressive person" next to the literal NASA astronauts. He said that Ivanka's been "very much interested in this program" and asked her to "tell us something about it."
Ivanka greeted Whitson and then brought up that her father signed the INSPIRE Women Act. That act is supposed to support young women in STEM careers. Trump signed it in February.
"I would love to hear from you, what was the impetus to get involved in the sciences?" Ivanka asked Whitson and Rubins.
The two women explained their moments of inspiration. For Rubins, it was a conference she went to when she was 15. For Whitson, it was when the first female astronauts were selected, around when she graduated from high school.
"You're an incredible inspiration to us all," Ivanka responded. She asked one more question about a day in the life in space. (To which Whitson and Fischer were basically like, "It's freaking awesome." Space is amazing.)
Trump brings Ivanka out in public every time he needs to speak to and about women.
This is a bad example to set.
There is no reason why Trump himself couldn't speak about the INSPIRE Act and ask the astronauts about their inspiration.
By handing the (symbolic) microphone over to Ivanka every time the topic of "women" comes up, Trump indicates that men cannot speak at all about women's rights.
And let's be real, Trump doesn't have the best record on talking about women's rights.
But without support from men -- and especially from the president -- we're never going to be able to achieve gender equality. Trump has to set an example and grow comfortable speaking about women's issues, even if it's hypocritical given his personal history.
Citations: Trump congratulates NASA astronaut who sets space record (CNN), Ivanka Trump Promotes 'Hidden Figures' As Her Dad Tries To Slash NASA Education Funding (Huffington Post), Trump phones up space station to congratulate NASA astronaut (USA Today), Trump Signs Comstock's INSPIRE Women Act (Loudoun Tribune)