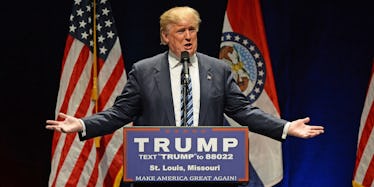 How US Travelers Are Defending America Against The Insanity Of Donald Trump
Shutterstock
For the past three years, I've been traveling on and off and meeting people from around the world. As an American traveler from California, I've experienced firsthand what it's like to be from a country that is often the centerfold of a heated political debate. From the moment I identify myself as American, people want to cut to the chase and start talking politics.
Our health care policies are worse than most countries, we don't get much vacation time and we're overweight from all the fast food we eat. It's juicy and intriguing, and I totally get it. The thing is, I've never been entirely comfortable talking politics with perfect strangers because I'm afraid of starting a heated debate. I have visions (nightmares) of discussions going awry and leading to totally uncomfortable situations for anyone in the general vicinity of the conversation.
So, I avoid them. On a recent trip to Thailand, I noticed a major trend in the usual find-out-I'm-from-America conversation starters.
The very first, unapologetic question from every non-American I met was, "What do you think of Donald Trump?" As a pretty deep rabbit hole to jump into, I played my responses safe and kept it to a minimum of "Ugh, he's awful."
The truth is, the honest answer is so much worse than that, and I have failed to respond in a meaningful way. Travel facilitates education and encourages conversations about these tough subjects. After much reflection, I realize that I've made a huge mistake by not answering the questions from my fellow travelers. I've missed the opportunity to be an ambassador for America and give my honest opinion.
So here it is: Donald Trump's xenophobic statements destroy the reputation of Americans abroad. I'll start by pointing out that Trump has actually proposed to ban the entrance of Muslims to the United States, essentially fighting hatred with even more hatred. This ridiculous bigotry toward an entire religious group only perpetuates intolerance, and it goes against all our values as Americans to protect freedom of religion.
I know I personally take these values with me abroad. One of the many reasons I travel is to learn about other religions and understand how a religion impacts individuals personally.
So please, Trump, try explaining this to the incredibly kind and loving Hindu family who invited me — the American — to their very personal puja ceremony so that I could experience their traditions firsthand. We as travelers are part of a movement that seeks freedom of religion and freedom of thought. Trump is sending a message of discrimination that tears this down.
Trump has also pledged to veto any new gun control measures, which certainly doesn't align in conversation with Canadian, British or Aussie leaders. Doesn't he know that the US youth homicide rates are more than 10 times the amount of other leading industrialized nations?
More Americans die in gun homicides and suicides every six months than have died in the last 25 years in every terrorist attack and the wars in Afghanistan and Iraq combined. I am defenseless when it comes to my fellow travelers who can't believe how little we've done to change gun control.
Moreover, I met an awesome British guy in Bali who later came to study abroad in the US, and he experienced the school shooting on the Northern Arizona University campus. Donald Trump is a leading candidate in this election who has already confirmed he opposes gun control.
Lastly, while I am out traveling as an independent female, working to change the perception of women around the globe, Trump is at home calling women "fat pigs," "dogs," "slobs" and "disgusting animals." He's also made a point to say that women who have abortions should be punished, but has since backtracked this statement. I just had a heart attack thinking of the feminist regression this man brings to the table.
So, to all my international friends I have met and will ever meet: Now you know how I feel about Donald Trump. Do I truly think he will win the election? Absolutely not. However, I do believe he has become an important figure in American politics. He has opened the table for discussions to be continued.
Luckily, travelers inherently work toward creating mindfulness and respect for other people and their cultures by simply exploring and accepting another country and its people. Trump cannot take this away. We are the ambassadors for our country, and that's just all the more the reason for us to keep traveling. Please keep an open spot on the couch for me just in case I need a quick escape from America on November 8.
This article was originally published on Wanderlove.