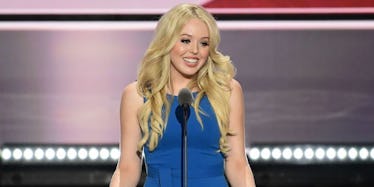 If This Tiffany Trump Job Rumor Is True, It'll Change The Way You Look At Her
REX/Shutterstock
Tiffany Trump is reportedly considering joining the family business, The Washington Post reports.
Amy Brittain of the Post is covering the opening of a Trump hotel in Vancouver.
According to Brittain, Donald Trump Jr. said Tiffany is "soon to be within the organization," aka The Trump Organization.
Tiffany graduated last year from the University of Pennsylvania and was reportedly hoping to pursue a career in law.
Perhaps she will be a lawyer within The Trump Organization.
If there is any truth to this news, it could change the way people look at Tiffany.
Tiffany has not always had to best relationship with her father, who said he was prouder of her to "a lesser extent" than his other children on Election Day:
I'm very proud of my children. I mean, I'm just looking at them right now as an example. But I'm very proud 'cause Don and Eric and Ivanka and, you know, to a lesser extent 'cause she just got out of school, out of college, but, Tiffany, who's also been so terrific. I mean, they work so hard.
So, Tiffany has often gained the public's sympathy, especially since she lives in Ivanka Trump's shadow somewhat.
Officially joining The Trump Organization could lead people to view her in a different, less sympathetic, light.
At the same time, it seems a bit unfair to hold Tiffany to a higher standard than her siblings, who've all benefited from her father's success in their own way.
Ivanka, in particular, has taken full advantage of the fact her father is the president, and was executive vice president of The Trump Organization prior to joining her husband, Jared Kushner, at the White House.
Kushner is a senior adviser to the president.
While Ivanka doesn't have an official role in Washington, she's definitely a very influential figure in the Trump administration.
So, perhaps we should focus less on Tiffany's career aspirations, and more on the members of the Trump family who actually seem to have a say in the president's policies.