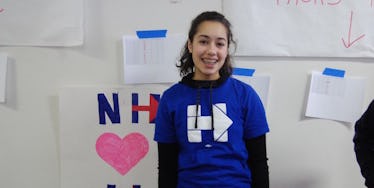 Why This Teen Works On Clinton's Campaign, 2 Years Before She Can Vote
Victoria Sanchez seemed at home standing behind a table piled with clipboards while fielding questions from Wellesley College students and older campaign leaders.
It was the day of the New Hampshire primary vote, and Sanchez was working as a team leader in the Hillary Clinton campaign office in Nashua.
The only thing Sanchez can't do to support Clinton, however, is actually vote.
Sanchez is a 16-year-old high school sophomore. She started working on the campaign last July when she was 15.
She tells Elite Daily it's "sometimes" frustrating she can't vote, but it's also part of why she so enjoys doing campaign work. People who had no intention of voting met Sanchez and told her they were so inspired by her doing this work at her age, they would now go vote.
She explains,
While my one vote may not be cast, I may have influenced 20 votes to be cast. While that's only a small amount within the grand scale of things, there are a lot of us doing that. So when it adds up together, it's a movement that people tend to overlook sometimes.
In addition to working on the campaign and going to school, Sanchez is a varsity swimmer and actress. She says,
Pretty much, I'd get off my school bus, get on the city bus, come down here, do whatever they need me to do, try and get schoolwork done in between and then I go home and do schoolwork.
Another volunteer at the campaign office tells me she's "never seen such dedication" as she does in Sanchez.
Due to her high attendance rate, Sanchez was able to take a few days off school to work on the campaign, including primary day. But how does she manage to keep all this organized?
The 16-year-old says,
I have a really nice Lilly Pulitzer planner, and I make sure I write everything down.
Sanchez was motivated to keep such a busy schedule by her belief in Clinton. Like many high schoolers, Sanchez is thinking about college, and she sees a Clinton presidency as the best way for her and her siblings to get through it financially intact, explaining,
I'm going to be in college soon and [Clinton's] college affordability act is the most feasible. My sister is graduating from college this year, then I'm next, and I have two younger siblings. If prices keep climbing how they are, that's something we won't be able to afford for my younger siblings. It's really important to me that everyone has the opportunity to be educated.
Sanchez was able to meet the candidate several times and says Clinton remembers her name and says "hello." Before one town hall, Sanchez spoke to Clinton about her tuition worries. Then, during the town hall, Clinton addressed their conversation.
Some of Sanchez's friends were confused at first by her political involvement. But over the last several months, they recognized her work is pretty cool, especially given all the people she met. She says,
There seems to be this misconception that Hillary doesn't have Millennials on her campaign, which is so not true -- at all. Pretty much everyone I work with is my age or in college, and I have never seen such a close-knit group of people working towards such an incredible cause.
Still, Bernie Sanders had enough support in New Hampshire to win the state's primary, especially among the young voters. Sanchez says she has discussions with her friends who support Sanders, and they manage to keep conversations "civilized."
She tells Elite Daily,
It is really interesting to see someone just as passionate about a campaign but on the Sanders side of it. Because then you're not just saying your opinions are one-sided -- you actually looked into both sides of it.
Although Clinton lost in New Hampshire, Sanchez says she continues to support her candidacy. For now, Sanchez is taking a break from campaigning -- she has a local theater production of "Hairspray JR" to act in -- but she says,
After my shows wraps up I may travel down to Massachusetts and other states to help out, and you can bet I'll be right back at it for the general when she gets the nomination!
Feeling kind of lazy about your involvement in politics yet? Same here. If you want to get involved in the campaign, it's easy: Just find your candidate's local office, walk in and ask what you can do.