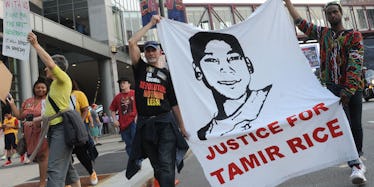 Millions Of Our Tax Dollars Help Silence Families Of People Killed By Police
Ken Blaze/USA TODAY Sports
The family of Tamir Rice, a 12-year-old boy shot and killed by police in Cleveland, Ohio, just received $6 million from the city of Cleveland in a settlement of the lawsuit regarding his death.
Cleveland is not required to admit any wrongdoing under the terms of the settlement, even though the circumstances of this case and Tamir's untimely death are dubious and led to national outrage.
In a statement, attorneys for the Rice family said,
Although historic in financial terms, no amount of money can adequately compensate for the loss of a life. Tamir was 12 years old when he was shot and killed by police — a young boy with his entire life ahead of him, full of potential and promise. In a situation such as this, there is no such thing as closure or justice. Nothing will bring Tamir back.
This is essentially an instance of tax dollars going toward silencing the families of people killed by police. As Wesley Lowery of The Washington Post noted in a tweet, this case is not unique.
All across America, cities settle lawsuits with families of victims of police killings using millions of dollars.
Tamir was playing with a toy gun outside when he was shot. Someone in the area saw him and called the police, telling the 911 dispatcher there was a "black" male pointing a gun at people, also noting the gun was "probably fake." But, the 911 dispatcher failed to relay this imperative information to police.
Within seconds of arriving on the scene, police officer Timothy Loehmann shot Tamir. He was just a boy playing with a toy who posed no real danger to anyone.
In the weeks after Tamir was killed, a federal lawsuit was filed against the two officers involved.
In December 2015, a little over a year after the November 2014 shooting, a grand jury declined to indict the officers involved, determining their actions were justified. The jury did so in spite of the deeply unsettling circumstances, the Cleveland Police Department's history of police brutality and Officer Loehmann's troubled past.
This is typically what happens with police killings in the US. It's extremely rare for charges to be filed against officers involved in such incidents. The law gives police the benefit of the doubt.
Meanwhile, my and your tax dollars go to settlements that help sweep these killings under the rug.
Police in this country obviously have a very tough job, and they should be permitted to protect themselves. The questions here are, are the police abusing this power, and when they do, are they being held accountable?
Citations: Cleveland agrees to pay $6 million to settle Tamir Rice lawsuit (The Washington Post), Justice Department Finds Cleveland Police Use Excessive Force (The Wall Street Journal), Officer Who Killed Tamir Rice Found Unfit in Previous Police Job (NBC News)