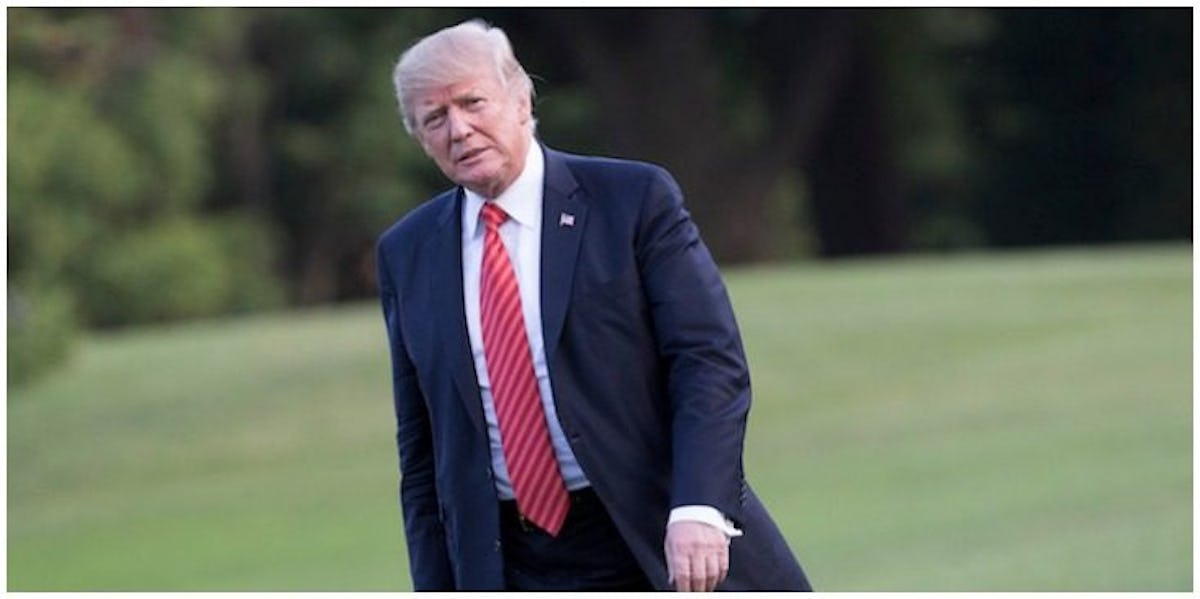 Suprise! After New Russia Allegations Surface, Trump Moves To Enact Trans Ban
Chris Kleponis-Pool/Getty Images
On July 26, seemingly out of the blue, President Donald Trump announced via Twitter that he would ban transgender individuals from serving in the military. After almost a month of silence, The Wall Street Journal has reported that the Trump administration is preparing an official memo to the Pentagon to implement the trans military ban. When will the trans military ban go into effect? The memo, set to be released later this week, states that Secretary of Defense James Mattis has six months to implement the changes.
The memo will allow the military to deny admittance to transgender individuals, stop spending on gender dysphoria-related medical treatment regimens for those currently serving, and will even allow Mattis to determine whether or not current service members are "deployable," according to the WSJ.
Deployability will be determined by "the ability to serve in a war zone, participate in exercises or live for months on a ship." Those considered not deployable will be removed from service.
Marine Gen. Joseph Dunford, chairman of the Joint Chiefs of Staff, announced on July 27 that the Pentagon would not enact a ban until they had official orders from the White House, according to the LA Times. Dunford wrote in a memo to high-level military personnel that all branches would continue to "treat all of our personnel with respect."
This memo will effectively make the trans military ban official.
Trump's original announcement said that the military couldn't be "burdened" by the costs of caring for trans service members.
The announcement was met with an intense backlash, and it reportedly shocked Pentagon officials, as Trump reportedly did not consult with military experts or anyone in the Pentagon before tweeting.
An estimated 1,320 to 6,600 trans service members are openly serving. According to a RAND Co. study commissioned by the Pentagon, between 29 and 129 service members per year on active duty seek transition-related care that "could disrupt their ability to deploy," per the WSJ.
The "tremendous medical costs" to which Trump referred in his original tweets are estimated to run between $2.4 million and $8.4 million per year, per a RAND study. The ban, which is a reversal of former President Barack Obama's decision to lift the trans ban in 2016, will reportedly cost the U.S. a whopping $960 million.
When Trump initially announced the ban, it was right around the time that the Senate was preparing to vote on a "skinny repeal" of the Affordable Care Act. This time the news comes as CNN reports that yet another incriminating email connecting the Trump campaign to Russian officials has surfaced.
Trump is many things, but subtle is not one.