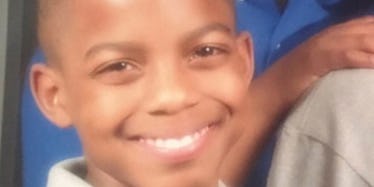 Shooting Of Black Teen In Texas Reminds Us 2017 Hasn't Escaped Police Violence
Twitter
Update Tuesday 9:40 AM EST:
Police have altered their account of what occurred the night Jordan Edwards was shot and killed, The New York Times reports.
Balch Springs Police Chief Jonathan Haber originally stated the car was reversing in an "aggressive manner" toward the officers when one opened fire.
Body camera footage, however, shows the complete opposite. The car was actually driving forward, away from the officers.
Responding to these developments, Lee Merritt, a civil rights attorney representing Edwards's family, said,
There were no weapons involved; there was no aggressive behavior; these were not suspects. The lone motive they had for the murder was that the vehicle was being used as a weapon, and now that is no longer there.
Jordan Edwards was shot and killed by police in the Dallas suburb of Balch Springs on Saturday night.
He was unarmed, 15 years old and black.
While the Trump show has dominated headlines in recent months, this is a sad reminder the US has not escaped police violence in 2017.
There are contradicting accounts of what occurred.
Police claim they were responding to reports of intoxicated teenagers walking around the neighborhood.
Upon their arrival, the officers heard gunshots, according to Jonathan Haber, Balch Springs Police Chief.
After, Haber said,
There was an unknown altercation with a vehicle backing down the road toward officers in an aggressive manner. An officer shot at the vehicle striking a front seat passenger. The individual was transported to the hospital where he was pronounced deceased.
But Lee Merritt, a civil rights attorney representing Edwards's family, told The Washington Post a different story.
Merritt said Edwards was at a house party with his 16-year-old brother and three other friends. They decided to leave when they heard police were coming.
He claims none of the teens were drinking and none were cited for underage drinking or any crimes.
When the teens got into their car, they reportedly heard someone shouting profanities and were fired upon.
Three bullets came through the driver's side window, according to Merritt.
It wasn't long after they noticed Jordan had been shot. His older brother, who was driving, stopped the car and asked police for help.
In Merritt's words, "They're never going to be the same. These kids are never going to be the same."
As details emerge surrounding the fatal shooting of Edwards, it's worth noting federal guidelines and other experts advise police not to shoot into moving vehicles.
The officer who shot Edwards has not been identified but has reportedly been place on administrative duty.
Jordan Edwards was a freshman in high school.
Edwards had his entire life ahead of him.
Now, his family and friends will never speak to him again.
He was a straight-A student who played football and was going through spring training.
A statement from Mesquite Independent School District, where Edwards attended school, called him "a good student who was very well liked by his teachers, coaches, and his fellow students."
Haber expressed the police department's "sincere condolences" to the family, but it's hard to imagine this brings much comfort.
This is yet another example of police violence in America.
During the latter half of former President Barack Obama's presidency, police violence was at the forefront of the nation's attention.
The issue opened up discussions about the legacies of slavery and Jim Crow in the US, due to the disproportionate number of people of color -- especially young black men like Jordan Edwards -- killed by police.
Research backs up many people's concerns.
In 2016, for example, black males between the ages of 15 and 34 were nine times more likely than other Americans to be killed by US police, according to The Counted, a database compiled by The Guardian.
But the issue of police violence seems to have been pushed aside somewhat in recent months as the Trump administration -- and the many controversies surrounding it -- have dominated much of the nation's attention.
Jordan Edwards reminds us we can't afford to continue this trend.
So far this year, US police have shot and killed 321 people.
Of all those killed by police so far in 2017, 80 were black, according to data from The Washington Post.
This means approximately one out of four people killed by police so far this year were black.
To put this into perspective, black people comprise just 13 percent of the US population.
Police have a dangerous job, but that's not the point.
The US is a violent country, where gun violence claims over 10,000 lives an annual basis.
In 2016, 63 police officers were killed by gunfire in the line of duty.
This includes five officers killed in Dallas in a tragic event last summer, not far from where Jordan Edwards was killed.
In this context, police should certainly be allowed to defend themselves.
This does not mean they should not be held accountable when they use lethal force.
It is fair and right to ask questions regarding whether such force was justified in terms of the circumstances.
Moreover, given the history of the US and statistics surrounding police shootings, it is also fair to ask questions about the racial disparities surrounding the use of lethal force by US police.
Attorney General Jeff Sessions seems determined to ignore this issue entirely.
In February, Sessions indicated the federal government would stop monitoring troubled police departments.
By doing this, the attorney general dismissed the very valid grievances of many communities across the country.
As noted above, this isn't about demonizing police. It's about holding those who are entrusted with protecting the public to a high standard and ensuring they don't abuse their power.
It's common sense.
Citations: Officer fatally shoots 15-year-old boy in car in Dallas suburb. Accounts are at odds. (The Washington Post), Jordan Edwards: Texas Police Officers Fatally Shoot Teen Leaving House Party (NBC News), Investigation Underway into Fatal Balch Springs Officer-Involved Shooting (NBC DFW)