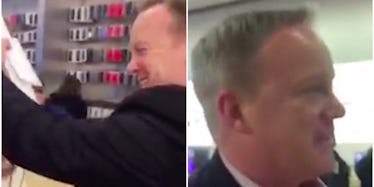 Sean Spicer Has Most Awkward Reply To Woman Who Ambushes Him In Apple Store
Twitter
It's not like Sean Spicer has a reputation for speaking thoughtfully and kindly to those who criticize the president.
But at least Donald Trump's press secretary is consistent when it comes to that, even outside the office, it seems.
Shree Chauhan, an Indian-American, was doing some shopping in an Apple store when she noticed the wordsmith wandering around. Obviously, she couldn't let an opportunity like this slide. So she went all rogue and ambushed Spicer with a barrage of intense questions.
She's heard asking,
How does it feel to work for a fascist? Have you helped with the Russia stuff? Are you a criminal as well? Have you committed treason, too? Just like the president? Have you committed treason too? What can you tell me about Russia?
Spicer calmly fires back,
It's such a great country that allows you to be here.
He then smiles and walks away before the encounter ends.
Shree branded his comment "racist" and slammed him in a blog post hours later.
She explained that as someone who has lived in Washington DC for nearly a decade, it's normal to bump into public figures on the street. Shree said she would usually let them go about their day without harassing them.
She explained,
However, given what Mr. Spicer and his boss are doing to this country, I do not believe they are entitled to these norms and customs. Donald Trump and his Klan are openly trampling on the rule of law, our Constitution and our democracy. When I confronted Mr. Spicer, I wanted to speak truth to power. It wasn't until hours later that it was revealed to me that Mr. Spicer had said, "such a great country that allows you to be here," to me.
Shree said "that is racism and it is an implied threat." She continued,
Think about the sheer audacity of Mr. Spicer to say that to my face with a smile, knowing that he that he is being recorded on video and the position of power he holds in our government.
She said she's still stunned by the boldness of his words and ended her post by imploring people to "rise up against the Trump regime before it is too late."
Citations: Sean Spicer "Racist" Comments Caught On Video In Apple Store (Medium)