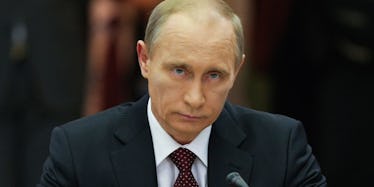 Russia Just Launched Its First Airstrike In Syria, But Against Whom?
Getty Images
Russia carried out its first airstrike in Syria on Wednesday morning, The New York Times reports.
The airstrike reportedly occurred near the city of Homs and came shortly after Russian President Vladimir Putin received permission from Parliament to use military force abroad.
What's curious about this is the fact Homs is not under control of ISIS, contrary to the fact Sergei B. Ivanov, chief of staff to President Putin, described his country's military activities in Syria as "air support for the Syrian forces in their struggle with ISIS."
Russia is an ally of Syrian President Bashar al-Assad, a deeply controversial dictator and accused war criminal.
Correspondingly, there are reports Russia's airstrikes actually hit rebel forces who oppose Assad's regime.
#Russia's choice of target for 1st airstrike in #Syria very telling: Homs never been hotbed of #ISIS. Long been anti-Assad rebel stronghold. — Jon Williams (@WilliamsJon) September 30, 2015
Russia reportedly hit a CIA-vetted Syrian rebel group that was receiving US anti-tank missiles. https://t.co/p7vKfsr99Z — DavidKenner (@DavidKenner) September 30, 2015
#Russia seems to have bombed Ltamenah, Zaafrana and Talbeseh, all of which are held by groups not affiliated to #ISIS ... — Michael Horowitz (@michaelh992) September 30, 2015
Russian state media has never differentiated ISIS from non-ISIS. So naturally Russia will claim anything it bombs in Syria is ISIS. — Max Fisher (@Max_Fisher) September 30, 2015
A spokesman for the Free Syrian Army (FSA), one of the more prominent rebel groups, reportedly contended Russian forces are there to conduct operations against it and not ISIS, as Russia purports. The US military helped train the FSA.
In other words, Russia may have just attacked US-backed rebels in Syria.
FSA spokesman: "Russia came to fight the FSA, not ISIS." — Mike Giglio (@mike_giglio) September 30, 2015
The war in Syria is incredibly convoluted. Russia's involvement will undoubtedly complicate things even further.
Russian intervention will entrench front lines, further radicalize the insurgency, & cant save Assad. Biggest loser, innocent Syrians — Aaron Stein (@aaronstein1) September 30, 2015
Seemingly all major powers are against ISIS, but many also hope to see Assad fall, one way or another.
President Obama and Mr. Putin clashed this past week at the UN over the issue, as the US is staunchly against the Assad regime while Putin hopes to see him survive.
Since the war began in Syria in 2011, around a quarter of a million people have died. The conflict also helped fuel the worst refugee crisis of our era.
Citations: Russia Launches First Airstrikes in Syria Officials Say (The New York Times), Documenting Evil Inside Assads Hospitals of Horror (Vanity Fair), Syrian rebels get their first US trained fighters (The Washington Post)