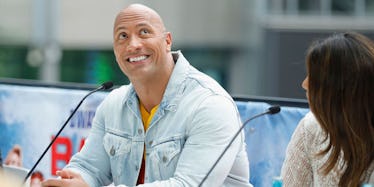 The Rock Is Officially One Step Closer To Running For President Of The US
Andreas Rentz/Getty Images
Dwayne Johnson, popularly known as The Rock, has hinted he might run for president in 2020 on more than one occasion.
Well, he could be one step closer, now that a campaign committee has formally filed to draft him for president.
Federal Election Commission records show the committee, named "Run the Rock 2020," was filed on behalf of Johnson on Sunday, July 9.
The paperwork was filed by a man named Kenton Tilford with an address in Wheeling, West Virginia.
It's not clear if Tilford has any connections with Johnson, The Hill reports.
This isn't a definitive sign Johnson is running, but it definitely adds to the whole conversation on his potential to.
With that said, a lot of people really seem to like the idea.
And if a former reality TV star can run for president and win, why not an actor and former WWE wrestler?
Actually, since we're on this topic, Trump also had experience with WWE, as we were recently reminded. But that's an entirely different discussion...
The Rock was ahead of Trump in a May 2017 poll for the 2020 election.
A national poll from Public Policy Polling in May 2017 showed 36 percent of voters see Johnson favorably, while 13 percent have a negative view of him. Around half of voters had no opinion on him at all.
The poll also found both Democrats (38 to 15) and Republicans (31 to 17)view Johnson positively, and that he would lead Trump in a prospective contest: 42 to 37.
Johnson also won over 15 percent of the people who supported Trump last November.
On top of this, we already know Johnson is popular in general.
In 2016, he was the world's highest paid actor, raking in $64.5 million, according to Forbes.
So, the guy definitely knows how to draw people in.
Maybe Johnson is the one person who can finally unify America?
The Rock has hinted he might run in 2020 more than once.
During an interview with GQ in May, Johnson said, "I think that it's a real possibility," when asked if he'd ever consider giving up his life as the highest-paid movie star on the planet and run for POTUS.
Johnson, who told GQ he's registered as an independent, also tweeted about the prospect of being president a few weeks before that interview.
Whether or not Johnson actually runs remains to be seen, but he already seems to have a strong base of support.
Not to mention, he's already known as the "The People's Champion" and has the perfect campaign slogan...