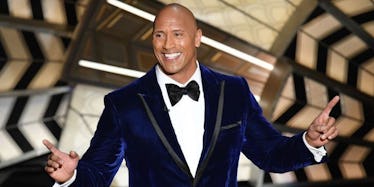 5 Reasons The Rock Needs To Run For President And Save Us All
Getty Images
The closest person the world has to a real-life superhero is Dwayne "The Rock" Johnson.
The guy can (and does) do anything. His smile is contagious, he's literally just a fantastic human and nothing anyone can say can ever change my belief that a hug from The Rock could literally cure my depression in one fell swoop.
SO IMAGINE MY DELIGHT every time the news cycle hints (read: widely reports) that The Rock wants to run for president.
The idea has been floating around for months now, seeing as he's kind of the male equivalent of Oprah in terms of lifting *claps* peoples' *claps* SOULS *claps*.
(Honestly, they should run together... but with Oprah as president and The Rock as VP, obviously. Come on. OPROCK 2020™.)
Anyway, Johnson first said he'd be interested in pursuing a career in politics to Vanity Fair back in 2016, the year of Satan. He said he "wouldn't rule it out" and welcomes the opportunity to help people.
And now, in an interview with GQ, he said he's seriously considering it. "I think that it's a real possibility," he said when asked if he would ever leave Hollywood behind and pursue the presidency.
So, in light of all of this, I would like to give my main man Dwayne a little push in order to help convince him that he should definitely pursue a career in politics. And if he doesn't want to run for president, he would make a great senator. Lord knows we need better ones right now.
Here are all the reasons The Rock should run for president (or Congress!):
1. He could win.
The Washington Post noted in a 2016 piece about him that his likability and ancestry could actually make him a viable candidate. And according to Forbes, he made $64.5 million last year, making him the world's highest-paid actor.
So the man knows a thing or two about getting a widespread audience to love him. It wouldn't be hard for him to campaign, and fans are already onboard.
2. HE KNOWS HE WANTS TO.
When the aforementioned Washington Post article first came out, Johnson posted about it on his Instagram.
The caption said,
Interesting piece from The Washington Post on if I ran for POTUS I could actually win. Writer Alyssa Rosenberg did some pretty good research into my background (slave descendants fighting for their freedom, Revolutionary War etc). Much more to uncover but well done. More and more pieces like this are popping up due to the Presidential election and they're cool/fun to read... I care DEEPLY about our country... and the idea of one day becoming President to create real positive impact and global change is very alluring. Buuuuut until that possible day, the most important thing right now is strong honest leadership from our current and future leaders of this country. Thanks again Washington Post.
JUST DO IT, DWAYNE. (I love you.)
3. His life is the definition of "the American dream."
Johnson comes from a poor family and had to work his way to success, unlike Trump, who's only stint with hardship was the fact that his father only gave him a $1 million loan when he was first starting out in real estate. Such struggle. Much hardship.
No, The Rock says his most formative teenage experience was his family being evicted from their one-bedroom apartment. The only way he was able to afford college was through football. He told GQ,
We had no money, and my grades were just average, so it wasn't like I was getting [an academic] scholarship. The University of Miami was the top program in the country. They were the national champions. I just wanted to go where I could compete.
He knows what it means to struggle, which means he's emboldened to help those who are struggling now.
He's the only son of wrestler Rocky Johnson, and is the descendant of Samoan wrestling dynasty, the Anoaʻi family.
Therefore, he knows what it's like to build yourself up from nothing — the definition of the American dream — and he's all about diversity.
Meanwhile, here's a picture of all the people who made the TrumpCare bill:
4. It's definitely OK for celebrities to run for public office.
Most of the negative criticism around the possibility of Johnson running for president is that people don't think a celebrity is equipped to run the country. Trump has scarred all of us, so that critique is fair.
But I wouldn't say that all celebrities aren't capable of holding public office just because they're celebrities.
One of the biggest things our government is currently lacking is empathy. Celebrities have a wealth of that. You can't be famous nowadays without using that power to be philanthropic, and people like Johnson, Oprah and Mark Zuckerberg know that. That's why, in recent months, all three of those names have been on lists of possible 2020 presidential candidates.
They have the empathy, intelligence and resources to do good. All of these things can be reflected into a career in politics.
Al Franken, for example, used to be a comedian on "SNL," and now he's one of the most recognizable US Senators and has been lauded for his pushback against Betsy DeVos during her confirmation hearings.
Celebrities can hold public office, they just have to be the right ones and not Satan's Cheeto, Donald Trump.
5. He's a feminist.
The Rock told GQ he was raised by "strong women" and identifies as a feminist. He posts about the women in his life all the time, detailing how they all inspire him to be a better man.
This is an extremely important detail to have in a president. President Obama was the first president in history to publicly identify as a feminist. We need more leaders like him.
In a time when women's rights are under attack, Johnson understands the importance of feminism and why men play such an integral role in it.
Dwayne "The Rock" Johnson definitely has the potential to have a career in politics. He has the empathy, he has the resources and he has the drive (you can't be named the hardest-working man in Hollywood without having the receipts to back up that fact).
But if he decides the Oval Office isn't for him, he should definitely consider running for Congress.
DWAYNE, PLZ, SAVE US.
Citations: Dwayne Johnson for President! (GQ), The Rock is seriously considering running for president (The Independent), How The Rock Went from Depressed Football Player to Hollywood Mogul (HighSnobiety)