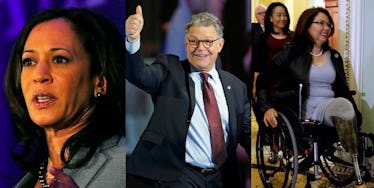 10 Refreshing Democratic Candidates For 2020 Not Named Hillary Or Bernie
REUTERS
The 2016 presidential election left the Democratic party wounded, divided and without a clear leader.
In spite of the fact that the Democratic National Committee recently elected new leadership, a recent Harvard-Harris Poll survey showed 40 percent of registered voters feel the Democratic party doesn't have a clear figurehead.
Of those polled, 15 percent said Barack Obama, who's no longer president, is the party's leader and 12 percent named Senator Bernie Sanders as the leader, even though he's an independent.
When asked who should be the Democratic presidential candidate in 2020, 45 percent said they really want to see different names than those in the survey as candidates.
Bernie Sanders was the top-named prospect, with 14 percent. He was followed by Michelle Obama at 11 percent, Elizabeth Warren at 9 percent and Hillary Clinton at 8 percent.
Mark Cuban, New York Governor Andrew Cuomo, Oprah Winfrey and Senator Cory Booker rounded out the bottom of the list.
It's evident people desperately want individuals other than Clinton, Sanders and Warren to emerge as the leaders or voices of the Democratic party — especially in time for the next presidential election.
(This election might seem a long ways away, but President Donald Trump is already campaigning, so it's not too early to talk about it.)
Some might argue that being leaderless is a bad thing. But, in many ways, it actually offers the Democratic party a tremendous opportunity to rebuild and strengthen itself in areas where it's displayed weakness in the past.
So, here's our list of 10 individuals with a strong balance of experience and notoriety who could definitely run solid campaigns.
Kirsten Gillibrand
New York Senator Kirsten Gillibrand is a passionate individual who's not afraid to speak her mind on an array of issues, especially sexual assault and reproductive rights.
She's been fierce in her opposition of Donald Trump, notably in terms of opposing his cabinet appointments.
Al Franken
Minnesota Senator Al Franken, who used to write and perform for "Saturday Night Live," has the perfect balance of humor and intellect.
He's emerged as one of the harshest critics of Donald Trump, and his charisma is winning over a lot of people at the moment.
Kamala Harris
California Senator Kamala Harris, who is only the second African American female senator and the first Indian American, is a top prospect for president in 2020.
Many have compared Harris, who also served as attorney general for her state, to Barack Obama. She's smart and fearless.
Chris Murphy
Connecticut Senator Chris Murphy has frequently made a name for himself through his eloquent and passionate statements and stances on gun violence.
He's young, smart and charismatic.
Val Demings
Florida US Rep. Val Demings was the first female police chief of Orlando.
She's tough and insightful, and not afraid of anyone.
Hakeem Jeffries
New York US Rep. Hakeem Jeffries, who's from Brooklyn, has a lot of charisma.
He's young, smart and down-to-earth. Jeffries' approach to politics is incredibly refreshing.
Tammy Duckworth
Illinois Senator Tammy Duckworth is a combat veteran who lost both of her legs when the US Army helicopter she was flying was shot down over Iraq.
Duckworth defines what it means to serve your country. She also has a fantastic sense of humor.
Kasim Reed
Atlanta Mayor Kasim Reed is an energetic leader who believes in the importance and power of local politics.
He's an innovative politician with unique perspectives on how to approach policy.
Amy Klobuchar
Minnesota Senator Amy Klobuchar is a pragmatic and experienced politician.
She's progressive, dedicated and would likely demolish Trump in a presidential debate.
Joseph P. Kennedy III
Massachusetts US Rep. Joseph P. Kennedy III, the grandson of Bobby Kennedy, is a rising star in the Democratic party.
Kennedy served in the Peace Corps in the Dominican Republic and is fluent in Spanish.
He's talented, conscientious and passionate.
Citations: For Democrats, no clear leader (The Hill)