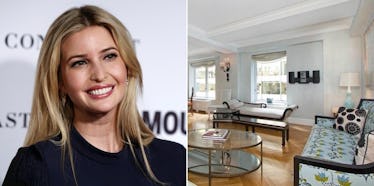 You Can Rent Ivanka Trump's Apartment, But It'll Cost You More Than A New Car
REUTERS/ Trump International Realty
If you're currently on the hunt for an apartment in New York City, have no fear -- Ivanka Trump has your back.
The president's daughter is renting her lavish Manhattan pad for a totally reasonable price that's definitely within the budget of any middle-class hustler trying to make it in the Big Apple.
Ha, who am I kidding? The only way you'll be able to live in Ivanka's old crib is if you sell your soul and maybe your first-born child because the rent she's asking for is downright outrageous.
Ivanka Trump and her husband, Jared Kushner, are renting out their second apartment in the Trump Park Ave building on the Upper East Side for a whopping $13,000, DailyMail.com reports.
If you think that's a lot of money, get this: The couple lowered their price from their original rent request of $15,000 to $13,000 because they're having trouble leasing the place.
Shocker, I know.
Before Ivanka and her family moved to the White House in January, she and Jared listed their penthouse apartment for sale for $4.1 million through Trump International Realty.
At the same time, they rented the place out with the hopes a lucky (and wealthy) New Yorker would move in.
If you have an extra $13,000 that you're willing to spend each month without going into debt for the rest of your life, check the place out.
As salty as I am that I can't afford it, the place is goddamn gorgeous.
I'd dream beautiful dreams in a master bedroom like this.
There's so much room for activities!
I don't think I'd ever leave this apartment.
This kitchen is a HUGE plus.
I love food, so my opinion here is biased.
If the rooms aren't enough of a selling point, the amenities you'll receive in the apartment are fit for a celebrity.
Apparently, the Trump building will provide you with valet service (because if you have this much money, that means you obviously have a car), a hotel, a maid, a fitness center, a live-in resident manager and laundry service.
Donald Trump bought the entire building for $115 million in 2001, which would definitely explain the pricey pads inside.
If you ever win the lottery and hope to live like royalty, definitely hit Ivanka up.
You'll essentially be throwing wads of money out your penthouse window, but you only live once, right?
However, if you'd rather not feed money into the Trump establishment, settle for an apartment somewhere far from the building instead.
Citations: Ivanka cuts the rent of her two-bedroom Upper East Side condo in a Trump building after struggling to find a tenant - but it'll still cost you $13,000 a month Read more: http://www.dailymail.co.uk/news/article-4250506/Ivanka-cuts-rent-second-Manhattan-apartment.html#ixzz4ZX0uvyzH Follow us: @MailOnline on Twitter | DailyMail on Facebook (DailyMail.com)