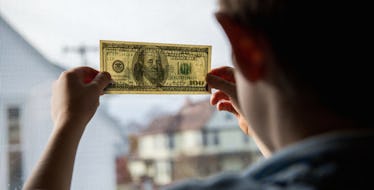 How The Student Loan Relief Act Of 2015 Misleads Millennials In Debt
by Congressman Eric Swalwell
Editor's note: The following op-ed was co-authored by Congressman Eric Swalwell and Sarah Audelo.
Lately, it seems like everyone is talking about student loan refinancing, and for good reason.
Too many student loan borrowers are buried in debt, and they're paying incredibly high interest rates at a time our country is enjoying some of the lowest interest rates we've seen in years.
We know the feeling, as we're both still paying off our student loans.
It seems obvious that student loan borrowers should be able to refinance their loans, just like anyone can now refinance his or her home mortgage or other kinds of debt.
That's why we support bills like Senator Warren and Congressman Courtney's Bank on Students Emergency Loan Refinancing Act.
But now, there's a new senator hopping on the refinancing train: Senator Ayotte.
She introduced her own student loan bill this month.
While we appreciate her now recognizing the prescience of this issue, and we understand the bill has some good ideas (like allowing borrowers to pay back their loans using pre-tax dollars), the refinancing portion is questionable.
This "refinancing" will leave borrowers worse off than when they started.
In Senator Ayotte's Student Loan Relief Act of 2015, only borrowers who pose the least risk to lenders would be able to refinance their federal loans into the private student loan market.
This is something borrowers are already able to do with companies like SoFi.
What makes this bill different is the fact it places the federal government on the hook if these private loans go bad. This move virtually removes any risk for the banks.
Refinancing student loans is important for two reasons:
One, which Senator Ayotte correctly identified, is the need for lower interest rates on loans at a time when lower interest rates are widely available and higher education costs are rising.
The second, however, highlights why this bill is so bad.
The ability to refinance private loans into the federal market gives borrowers more protections and programs that banks offering private student loans simply cannot provide.
Fixed interest rates, forbearance and deferment options, no prepayment penalties, income-based repayment plans and Public Service Loan Forgiveness after 10 years are not available in the private market.
By refinancing loans from the federal market to the private market, these protections and programs are lost.
Plus, we've already experienced bank-based student federal loans. That program rightfully ended in 2010, when it became clear banks, not the borrowers, were the ones who benefitted the most.
Every day, we hear from both Millennials and their families who are struggling with the high cost of education and are saddled with student debt.
Americans want real solutions to the higher-education crisis.
They don't care whether it's free community college, cracking down on for-profit colleges that are swindling low-income students and vetting out their financial aid or addressing the $1.3 trillion in student loan debt held by our nation's borrowers.
Students and borrowers deserve more than what our current system offers. Real solutions must be proposed that put their needs first.
The so-called Student Loan Relief Act of 2015 is not the answer.
Enabling private lenders to pick and choose between borrowers, leaving all loan risk with the federal government and removing protections and programs for borrowers result in one clear winner here: the banks.
If Senator Ayotte and her colleagues were serious about addressing the student debt crisis, they would be protecting the interests of the 40 million individuals with student loan debt, not the banks.
That's why legislation like the Bank on Students Emergency Loan Refinancing Act is so important.
That's why we're going to continue our work, as elected officials and advocates, to stand with students and borrowers for legislation that prioritizes their needs both before they enter college and once they finish.
This bill is nothing more than a wolf in sheep's clothing.
It's meant to elicit support by taking advantage of the refinancing momentum, but in reality, it's nothing but legislation in the interest of the banks.
Disclaimer: The views and opinions expressed in this article are those of the author and do not reflect the official position of Elite Daily.
Congressman Eric Swalwell represents the 15th Congressional District of California, which includes much of the East Bay. He is the Chair of the Future Forum, a group of young Democratic Members of Congress focused on issues and opportunities for Millennial Americans. He has approximately $100,000 in student loan debt. He is on Twitter @RepSwalwell.
Sarah Audelo is the Policy Director for Generation Progress. Her work focuses on directing Generation Progress' youth-led and focused policy solutions related to economic justice, civil and human rights and democracy.