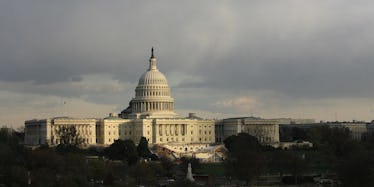 Protestors March On US Capitol To Demand An End To Money In Politics
REUTERS/Jim Bourg
An unprecedented number of protestors were reportedly arrested at the US Capitol on Monday during a massive demonstration against money in politics.
The protest, dubbed Democracy Spring,  involved thousands of individuals who marched 10 days and 140 miles from the Liberty Bell in Philadelphia all the way to Washington DC.
On its website, Democracy Spring outlined several goals in terms of what it wants from Congress.
The website said,
Our collective demand to Congress is that it take immediate action to end the corruption of big money in politics and ensure free & fair elections in which every American has an equal voice. We have identified at least four reform bills that are already pending before Congress as exemplary actions that can be taken. These include proposed legislation that would implement robust small-dollar citizen-funded elections, combat voter suppression, and empower citizens with universal suffrage; it will also introduce a constitutional amendment overturning Citizens United. Our proposed reform bills are: the Government by the People Act & Fair Elections now Act; the Voting Rights Advancement Act of 2015 & Voter Empowerment Act of 2015; and the Democracy for All Amendment.
Those in attendance at the protest on Monday seemed happy to risk arrest in order to stand up for what they believe.
By Monday afternoon, #DemocracySpring was a top trend on Twitter, and it caught the attention of a wide audience, including some celebrities.
From the conversation on Twitter, it seems many of those at the protests were proud supporters of Bernie Sanders, which isn't all that surprising since campaign finance reform has been a benchmark of his presidential campaign.
The protests are scheduled to last through the week, according to Democracy Spring's website.
Citations: 100+ arrested at 'Democracy Spring' sit-in at US Capitol (VIDEO) (RT)