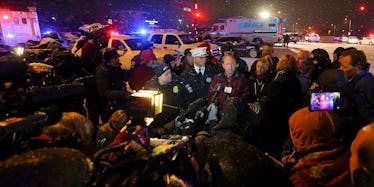 Planned Parenthood Shooting Victim's Brother Is Criticizing US Gun Laws
Getty Images
Ke'Arre Stewart was one of three people killed in a shooting at a Planned Parenthood in Colorado Springs, Colorado on Friday.
Stewart was 29 years old, a father of two and an Iraq War veteran. He was in the Planned Parenthood with his girlfriend.
Stewart was shot when he stepped outside to find cell phone service. After being shot, he ran back inside the building to tell people to take cover.
While no official motive of the gunman is yet known, law enforcement officials said the shooter used the phrase "no more baby parts" in talking to police.
Debate about the shooting revolved around abortion, but Stewart's brother brought the focus to the direct cause of his brother's death. He said to NBC,
My anger is not toward him, toward the [gunman]… my anger is toward the laws that allow things like this to happen: the gun laws. When you allow people to carry firearms at their own will it makes a breeding ground for destruction and tragedy.
President Obama echoed this sentiment in his statement on Saturday, calling -- yet again -- for stricter gun regulations.
Whatever the shooter's official motive ends up being, three people were killed because he had access to guns.
The nation continues to regularly experience mass shootings. According to The Washington Post, the Planned Parenthood shooting was the 351st mass shooting this year.
Jennifer Markovsky, a married mother of two who accompanied a friend to the clinic, and Police Officer Garrett Swasey were the other two victims of the shooting. Memorial funds have been set up for Swasey and Stewart.
Citations: Planned Parenthood Victim Ke'Arre Stewart Tried to Save Others (NBC News), Colorado Victims Identified as Iraq Veteran and Woman From Hawaii (The New York Times), SUSPECT IN COLORADO CLINIC SHOOTING TO APPEAR IN COURT (Associated Press), There have been 334 days and 351 mass shootings so far this year (The Washington Post)