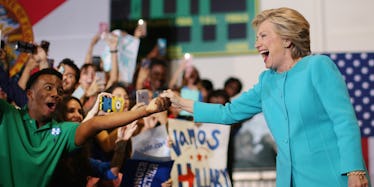 Pic Of Hillary Clinton Being The Ultimate Birthday Princess Will Make Your Day
REUTERS
Hillary Clinton celebrated her birthday the only way she knows how.
By campaigning to serve the people as president of the United States.
Clinton had two rallies on her 69th (nice) birthday on Wednesday. They were both in Florida, a battleground state she is fighting to win. The first was in Lake Worth in the morning and the second was in Tampa in the afternoon.
Clinton is currently projected to win the presidential election, beating Donald Trump.
The pure joy of this photo shows you just about how Clinton's feeling on her birthday.
Let's get a closer look:
Can we see it in action?
We have a feeling Clinton is enjoying her birthday.
While her competition spent the morning having a ribbon-cutting ceremony for his newly opened hotel in Washington, DC, Clinton was campaigning hard.
But while it's work, she seems to be enjoying it immensely.
Which, ya know, probably has something to do with all those polls saying she's going to win.
This might just be the best birthday week ever.
It all started last week when the Cubs made it into the World Series. Clinton is a Chicago girl and has long been a Cubs fan. Here's how she reacted to that news:
She discussed being both a Cubs and a Yankees fan on her birthday morning on the radio with the Power 105.1 Breakfast Club.
While there, none other than Stevie Wonder sang her "Happy Birthday."
Wonder wasn't the only singer to give the presidential candidate a birthday present.
Clinton was feeling so good, she stopped by an Adele concert on Tuesday night. There, Adele voiced her support for Clinton and against Trump.
And it wasn't the only singing of happy birthday she got. A rally crowd sang to her, wishing her a happy birthday on Tuesday.
As did members of her campaign:
.@HillaryforNV wishes @HillaryClinton a very happy birthday! #NVVotesEarly pic.twitter.com/UrKHu7Rmro — Rachel Palermo (@RachelEPalermo) October 26, 2016
While appearing on Univision's "El Gordo y La Flaca" on Tuesday, Clinton was gifted a cake and a bottle of tequila.
And she gleefully got more cake on Wednesday morning:
Surprise! Happy Birthday HRC!! pic.twitter.com/U2H7XUUltc — Nick Merrill (@NickMerrill) October 26, 2016
Clinton was feeling so good, she wished herself a happy birthday on Twitter.
So, Hillary, we'd say happy birthday, but it appears you've got that covered all on your own. Enjoy it.
Elite Daily and 50 other media organizations partnered with Rock The Vote to register 100,000 women to vote. You can register right here (and men can use it too) :
Citations: FiveThirtyEight