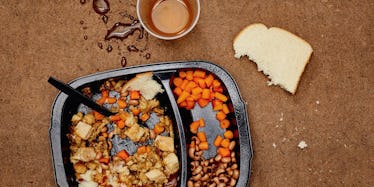 Powerful Photo Series Captures The Last Meals Of Inmates On Death Row
Henry Hargrea
More than two-thirds of the world's countries have abolished the death penalty, but the US is not one of them.
Despite the many valid concerns surrounding capital punishment, America has retained the practice.
Henry Hargreaves, a Brooklyn-based photographer, is shedding light on this issue in a very powerful way through a photo series that features images of the last meals of all 20 men executed in the US in 2016.
Hargreaves recreated the meals using information he gathered from official documents.
The series, "A Year Of Killing," is a sequel to his 2011 series, "No Seconds," which recreated the last meals of infamous criminals like Ted Bundy.
Speaking with Elite Daily, Hargreaves described what inspired him to pursue this project,
After all the talk and attention my "No Seconds" series brought to the issue of capital punishment in the US, I wanted to revisit this idea. Instead of giving an overview of various meals served over the past 40 years, "A Year of Killing" looks solely at the the inmates executed by the state this year. As state-sponsored executions become increasingly problematic due to lack of access to effective drugs, clear racial and social basis and the human error of assigning blame, the killings still go on at a rapid rate. I hope this helps better inform people about this practice.
The annual number of executions performed in the US has actually declined over the years. This year saw the fewest number of executions since 1991. As noted above, there were 20 executed in 2016.
Along with the low number of executions performed this year, just 30 new death sentences were handed out, which is a 40-year low.
But there is still a case to be made for abolishing the death penalty.
It's arguably an antiquated and barbaric practice, and the US remains in the company of some of the worst human rights abusers in the world by continuing to implement it.
The United States is one of the world's top five executioners, and in 2015 was only surpassed by China, Iran, Pakistan and Saudi Arabia in terms of the countries in which the most executions took place.
Moreover, research shows there's no substantial evidence the death penalty deters crime.
We also can't ignore the flaws of America's criminal justice system, and the fact innocent people have been executed, as well as individuals with mental disabilities.
Capital punishment also disproportionately impacts minorities: 55 percent of those presently awaiting execution are black.
Meanwhile, public support for the death penalty is at its lowest point in decades.
In short, there are a lot of reasons for the US to consider getting rid of the death penalty, and Hargreaves's photo series helps remind us that we should, at the very least, be having a thoughtful conversation about it.
Citations: American Civil Liberties Union, The Guardian, The Washington Post, Amnesty International, BBC