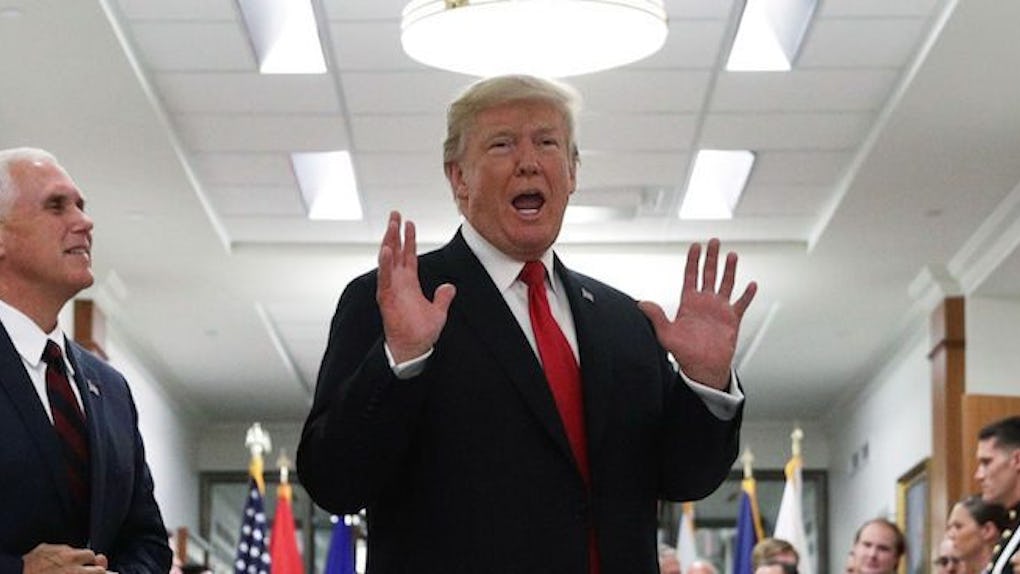 Alex Wong / Staff/Getty Images
Trump's Mar-A-Lago Requested More Foreign Workers During "Made In America" Week
President Donald Trump's Florida resort and so-called "Winter White House" Mar-a-Lago has filed for permission to hire 70 temporary immigrant workers, which might come as a shock to Trump supporters. And it definitely comes at an awkward time -- in the middle of the White House's Made in America week.
One of Trump's core campaign promises was to bring back jobs for Americans by creating incentives for manufacturing jobs, cracking down on immigration, and ending outsourcing. These ideas (among others) were wildly popular among Trump supporters, according to CNN.
"I want to see American made," said one voter interviewed by CNN.
Trump even stated in his inauguration speech that, "Every decision on trade, on taxes, on immigration, on foreign affairs will be made to benefit American workers and American families."
But, as David Fahrenthold of the Washington Post has pointed out, this Mar-a-Lago foreign worker request -- which claims that the club cannot find suitable American employees -- not only doesn't match up with campaign promises and tweets. The timing is also deeply ironic.
Made in America week is intended to celebrate American workers and American-made goods. A press release from the White House's website states,
Under the leadership of President Trump, not only will the American worker never be forgotten, but they will be championed. President Trump has offered a new vision: the well-being of the American citizen and worker will be placed second to none.
Trump has worked on several job creation initiatives, such as signing an executive order OKing both the Keystone Pipeline and the Dakota Access Pipeline. At one point, he claimed that the Keystone would create 20,000 jobs, though a State Department report estimates anywhere from 1,950 to 3,900 construction jobs and only 35 full-time positions would result from the pipeline.
He also announced, with fanfare, that he had intervened and saved 600 Indiana-based manufacturing jobs at Carrier, but the jobs are reportedly still being moved to Mexico, according to CNBC.
He even signed an executive order in April, directing federal agencies to review their visa immigrant hiring practices in order to promote "Hire American" policies.
"Hire American" isn't a new concept for Trump, who tweeted frequently about American jobs and outsourcing as a presidential candidate and as a private citizen famously critical of then-President Obama.
But it seems like those promises don't quite extend to his own businesses. Elite Daily has previously written about Trump's personal tendency to use outsourcing. His Trump Collection shirts are all made in China, Bangladesh, Honduras, and Vietnam, and several items from his Home collection are made in China, according to the Washington Post. Even his Make America Great Again hats, are manufactured overseas, according to Reuters.
The Mar-a-Lago filing, which states that the Florida club couldn't find Americans suitable for these positions, doesn't quite mesh with Trump's assertion that American workers are some of the best in the world.